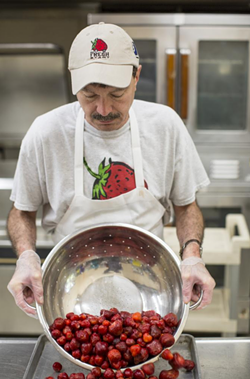 Michigan farmers produce over 300 commodities, making us the second most diverse agriculture industry in the country, beat out only by California.
Yet, many Detroiters lack access to fresh fruits and vegetables. You may have heard the city referred to as a "food desert."
Things are getting better as restaurants begin to focus on featuring fresh, locally sourced produce, as urban gardens expand into
urban agrihoods
, and as grocers that focus on fresh, wholesome food open in the city.
Still, there's more work to do.
Now, Eastern Market Corporation is partnering with a Traverse City company called Michigan Farm to Freezer. The company flash freezes fruit and vegetables grown on local farms — a process that maintains food's nutrition and flavor —and sells it to schools, grocery stores, community feeding programs, and restaurants.
Brandon Seng and Mark Coe founded the company in 2013, now they're expanding their operations to Detroit with the help of an $800,000 grant awarded to Eastern Market Corporation by Department of Health and Human Services under the Community Economic Development Healthy Food Financing Initiatives. Some of that grant money will go toward helping the pair renovate a long-empty 14,000 square foot facility located on Mack Avenue in Detroit.
According to a press release, renovations will be complete by July and the facility will employ roughly 25 people.
"The Farm to Freezer concept is simple and is one that generations before us put into practice … when produce was abundant, they saved and stored it for use when it wasn't as readily available." Seng said in a press release. "Our expansion to Detroit will help increase access to nutritious food by connecting our state's fruit and vegetable resources with some of our community's most pressing needs — nutritious food and jobs."
The project's dual purpose is to make healthy foods available to locals, while also offering them employment opportunities.
"While Michigan boasts some of the most diverse crop production of anywhere in the nation, we know that there are people in nearby neighborhoods with limited access to fresh produce," Mike DiBernardo, Director of Food Innovation Programs for EMC said in a press release. "Farm to Freezer's model directly aligns with EMC's strategy to develop and support innovative businesses and programs within Eastern Market that grow the food system and create employment and economic opportunities for our region."