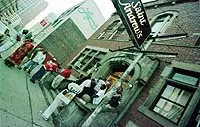 Metro Times Photo / Bruce Giffin
Outside St. Andrew's Hall
Upstairs from the Shelter is the venerable Detroit institution known as St. Andrew's Hall, which has played host to just about every conceivable punk, hard-core, new wave, no wave, alternative and anything in between band that's come down the new music pike since 1980. With a capacity of 1,000, and a balcony ringing the upstairs level of the rectangular-shaped room, the venue offers an opportunity for sight lines from every angle. Friday and Saturday nights offer up three floors of fun, with a potpourri of DJs' and live acts' sounds permeating from the subterranean-level Shelter up to the chandeliered Burns Room.