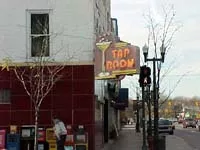 Metro Times Photo / Larry Kaplan
Live blues at The Tap Room
Established in 1941, the Tap Room enjoys a quaint existence on the corner of one of downtown Ypsilanti's main drags. The narrow bar remains clear of intense crowds, providing a perfect venue for student types to 40-plus folks to talk and hear music. Outgoing patrons can perform on Karaoke Sunday or one of the open-mic nights (Monday, unplugged; Tuesday, blues jam; Wednesday, electric and acoustic), all hosted by local musicians. Fridays and Saturdays are dedicated to blues bands. The bands can seem somewhat far removed, but sound bounces nicely off the wooden walls sculpted with playful nymphs.