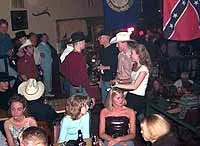 Photo / Diamondback Saloon's Web site
Diamondback Saloon
Giddyap, cowboys and cowgirls. A country-western counterculture is alive and kicking (and yee-hawing) near Metro Airport. Nestled in relative obscurity, the sprawling Diamondback Saloon bursts with new and old country music and lots of two-stepping.
The cactus-covered bar spans several levels and hosts multigenerational crowds. Nondancers get a great view of the wooden dancing "pit." Live bands grace the stage Wednesdays through Sundays. Bands and DJs amply fill the room without blasting the gentlefolk out of their boots. Line and two-step lessons Tuesdays through Saturdays. Ten-gallon hats and ruffled skirts rule at this hardcore country palace.