The big news at Michael Moore's Traverse City Film Festival, taking place this week from tonight through August 3rd, is the appearance of Michigan native Madonna, who's showing up this Saturday to screen her new documentary film, I Am Because We Are. We'd be more excited, however, by the fact that our friends the Go will be performing two shows at the festival, with the first one taking place tonight.
The Go have two songs – "Help You Out" and "Jigsaw Man" – in Jason Pollock's new documentary, The Youngest Candidate, which is having its premiere screening tonight (July 30th) at 9 p.m. at the State Theatre in Traverse town. The film, produced by Lawrence Bender, Balance Vector Productions and David Letterman's Worldwide Pants, is about four teenage political hopefuls. Flint native Mr. Moore calls the film "one of the best first-time documentaries I've seen," perfectly suited to "a year that has been defined by a virtual youth revolution." The Go will then perform at a party, following the premiere, tonight at midnight, at the InsideOut Gallery, as well as tomorrow night at 10 p.m. at the Loading Dock, both events in celebration of the film's debut.
The Go just returned from Fortune Magazine's Brainstorm Tech Conference in Half Moon Bay, California, where they performed all three days. A giddy Bobby Harlow, the group's lead singer and co-songwriter, e-mailed us last night that none other than one Mr. Neil Young watched the band perform all three days. Not bad, dude! Bobby also noted that he "had an interesting chat with [Motorhead's] Lemmy concerning the [state of the] music industry" during his stay in Cali. Nothing to report on that other interesting Go info that's been brewing for some time now
but we will when we hear anything at all.
In other Go-related news, the band is releasing what Harlow terms "the alternate Howl On The Haunted Beat You Ride" album this October, describing it as "sort of a volume 2." The new disc will be available on both CD and vinyl.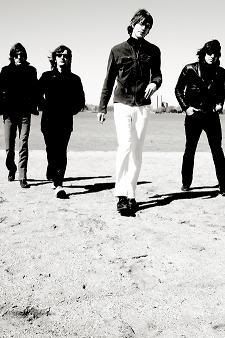 The Go: beach boys back from Cali...