Got an e-mail from our pal Matthew Smith (why do my fingers always want to type "Matthew Sweet" when addressing this dude?), alerting us to another of his last minute gigs — and since it's taken me several days to find the time to post this, the item is really "last minute" as I type (not as last minute, though, as me trying to score tix for Bruce Springsteen's show in Milwaukee tomorrow night, which many are suggesting that, aside from a yet-unannounced appearance at the Super Bowl this January, might be the E Street Band's last gig ever .).
Anyway, the Volebeats — one of Mr. Sweet er, Mr. Smith's side projects — are bringing their wonderful jangly psychedelic pop to Northern Lights Lounge, 660 W Baltimore St, Detroit, tomorrow night, Saturday, August 30th. Ether Aura and Molly Jean are also on what promises to be an outstanding bill. Smith alerts us to the fact that the Volebeats have spent most of the last month in the studio working on a new album, which should be ready for release early next year. By the way, Little Steven — yes, that Little Steven (the one playing in Milwaukee tomorrow night — recently compiled a CD of classic Outrageous Cherry tracks. If you haven't picked one up yet, do so immediately.
Smith is also going to be a member of the band that'll be backing up soon-to-be legendary Detroit artist Rodriguez when he performs a rare show at The Park Bar, 2040 Park Avenue, Detroit, next month on Saturday, September 20th. The Detroit-born and based dude released two albums in the early '70s, which went absolutely nowhere — probably didn't help that when the guy played a showcase for the business suits in NYC back then, he did the whole performance with his back to the audience.

Over the years, however, the records were discovered by rock fans primarily in South Africa and Australia where the artist became "bigger than Elvis" while he was still toiling as a day laborer here in the Motor City. The indie Light In The Attic label rereleased Rodriguez's debut album, Cold Fact, this past Tuesday and it's already created a remarkable buzz internationally. Entertainment Weekly just referred to him as "a genius" and I can't say I disagree. The album is fantastic and just proves the remarkable power of rock 'n' roll in that something this great can remain buried for years and suddenly be discovered and heralded decades after the fact. The CD's been in my player on steady rotation since I got it several weeks ago; his voice is a little reminiscent of Nick Drake or a bit like Donovan but the wonderful psychedelic folk music and especially the lyrics may make you think of a slightly damaged Bob Dylan, circa the mid-'60s. Remarkable, remarkable stuff. Order your own copy today! And check out this report on the dude (born Sixto Diaz Rodriguez – so, no, he ain't Irish) on NPR radio.
Joining Smith (who'll be on guitar) in Rodriguez's backup band for the September show will be Jim Diamond, Dave Shettler and Bobby Emett from the Sights. Should be an amazing night of first-class Detroit music.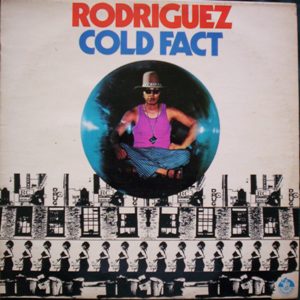 Buy this album, dammit!