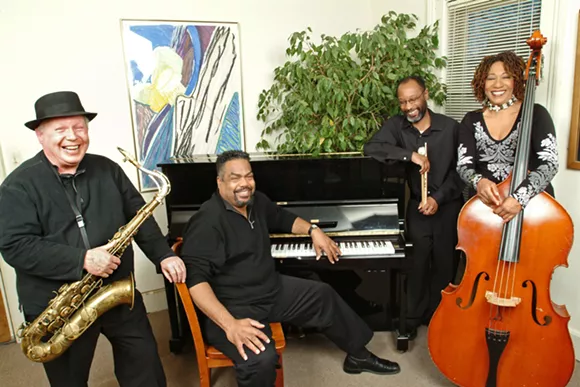 Courtesy photo
Alvin Waddles Quartet.
Palmer Woods' Music in Homes series brings jazz, classical, and world music to one of Detroit's historic and beautiful residential neighborhoods. Its 8th season kicks off on Saturday, Dec. 27 with the Armond Jackson Quintet ... which has unfortunately sold out. However, there are plenty more concerts planned from January through June worth checking out, like the Mardis Gras celebration with Alvin Waddles Quartet on Saturday, Jan. 31.
Tickets are $45 each or $40 for groups of 10 or more, and can be purchased at
palmerwoods.org
or by calling 313-891-2514. All shows include a reception that pairs a meal to the music — like the Mardi Gras menu, which features jambalaya, red beans, rice, and corn bread.
The 2015 lineup is as follows:
Saturday, Jan. 31, 8 p.m.
Alvin Waddles Mardi Gras Celebration
Saturday, Feb. 28, 8 p.m.
Charles Boles Quartet
Saturday, March 28, 8 p.m.
Jannina Norpoth & Maria Meirelles
Saturday, April 25, 8 p.m.
Michéle Ramo World Jazz Ensemble with Heidi Hepler
Saturday, May 30, 8 p.m.
Orquesta La Inspiracion
Friday, June 26, 8 p.m.
Luther 'Badman' Keith Blues Band
Saturday, June 27, 8 p.m.
Ralphe Armstrong Quintet