Author's note: Some of the recollections herein are from the author's own personal experiences. I stand by these statements of fact as just that: Fact to the best of my recollection, backed up by hours of interviews with many others who were present when some of these events took place. Where statements are made that could be considered subjective, I tried to be as objective as humanly possible while still being true to memory.
As Detroit's resurgence makes international headlines, it's convenient to forget what we're resurging from: Decades of high unemployment, violent crime, abandoned homes, abandoned lives and a very low standard of living for a First World nation. In the late '80s, with Detroit deeply mired in the aforementioned miasma, a band called Cold as Life emerged on Detroit's west side. It all started when, at a small bungalow nearly identical to all the other small bungalows in the infamous Brightmoor neighborhood, a guy who went by the name Rawn Beuty (aka Rodney Barger) joined a punk band called the Mattress Rats.
Detroit City garbage everywhere,
Open your window choke from the air,
Gangsters on the corner sellin' their dope,
In a dark alley someone's being offed.
—From "Detroit City," lyrics by Rawn Beuty
It's impossible to tell the story of Cold As Life without telling the story of Rawn Beuty. If Detroit punk in the late '80s and early '90s was Sherwood Forest, Rawn was equal parts Robin Hood, Little John and the Sheriff of Nottingham. Omnipresent at punk shows from big international headliners at St. Andrew's Hall to basement parties with unknown two-chord (and two-rehearsal) noise bands, Rawn could be a bully or protector depending on which side of his bootlaces you were on. Revered, despised, beloved, and feared, Rawn took the reins as vocalist of the Mattress Rats and through sheer force of will and personality changed the name and direction of the band to fit his blisteringly angry outlook. Cold As Life (from a lyric Rawn had written) was born.
The original use of the term "hardcore" as an adjective was by sociologists to describe the chronically unemployed. Sort of ironic when you think about the long-term job prospects for Detroit teens and twentysomethings in the '80s and '90s. Unemployed and underemployed musicians flocked to Brightmoor for the inexpensive rent and the "who's gonna call the cops for loud music when there are gunshots every night" attitude. Among the bands that lived or rehearsed in Brightmoor during that era were SBLC, the Generals, the Beer Whores, the Goddamnits, and Almighty Lumberjacks of Death, to name just a few. But none of those bands had the brutal, aggressive anger of Cold As Life, hardcore in both sound — in which melody is often sacrificed for unbridled fury — and in lifestyle.
While Vancouver band D.O.A. may have popularized the term "hardcore" on the album Hardcore '81, it easily can be argued that the ultra fast, brutal punk rock sound that came to be known as hardcore was invented or created by Negative Approach right here just outside of Detroit in March of 1981 in John Brannon's mom's basement. (Some New York bands were doing it concurrently, and the argument as to who invented it will be a punk rock parlor argument long after Henry Rollins has gone to the great coffehouse in the sky). But the early '80s DIY Detroit punk and hardcore scene that arguably spawned that sound had all but collapsed by 1987, with clubs like the Freezer, the Clubhouse, Kurt Kohl's Asylum (not to be confused with the Amir Daiza-run dance club of the same name on Broadway), and the Hungry Brain just a mosh-pit-concussion-fogged memory. (The Graystone hung on, sporadically, but it too finally saw its demise during that era).
Blondies, the Token Lounge, Harpos, the Harbor Theater and St. Andrew's Hall (and, occasionally, the Shelter) were the only clubs booking aggressive (read: potentially violence-inducing) bands. With Rawn's reputation preceding him into the band, promoters and club owners were hesitant to book Cold As Life.
Nevertheless, when Cold As Life was still known as the Mattress Rats, they got a gig at Blondies in September of 1989 with Rawn on vocals, two guitarists Jeff Gunnells and Jeff "Jay Way" West, Roy Bates on drums and no bass player, opening for Tim King's highly regarded and high "liberty spike" hair-coifed Heresy.
"[Rawn] was crazy. I barred him I don't know how many times, and he always got back in somehow," says Ruzvelt "Rosie" Stevanovski, who owned Blondies on Seven Mile Road at the time. "I don't know how. One time I chased him around the bar." Then,when Stevanovski took over alternative-gay dance club Todd's and turned it into a live music venue, he booked Cold As Life.
The band, which by now had a Spinal Tappian revolving door of bass players (notably the late Jake Loch of Moloko Plus and punk rock poster artist extraordinaire Craig Holloway), played the club, and around that time someone spraypainted "in big fucking letters" as Stevanovski recalls "Rawn Beauty [sic] Will Die" on the east side of the building on Seven Mile just east of Van Dyke. "I told Rawn about it," Stevanovski says. He just laughed." The culprit was never identified.
Why was I born the question you ask?
Weak attitudes here they won't last.
No you scream I can't take anymore,
Faced with reality like never before.
—From "Terror Zone" Lyrics by Rawn Beuty
Things took off for Cold As Life at a show at the Capitol Theatre in Flint. They were the opening act for seminal New York hardcore architects Agnostic Front, and the band's singer Roger Miret and guitar player Vinnie Stigma invited Cold As Life to come to New York and open for them at CBGB's, only the most famous punk club in the history of broken E strings, Brooks leather jackets, and heroin.
As drummer Roy Bates recalls, " The place was so packed … at least 300 people were outside trying to get in. To get to the stage, I literally had to dive off the front of the bar and ride the crowd to my drums. The intensity was off the charts. You could feel it everywhere in the room. The walls were sweating. It was our first show out of town and Rawn tormented the entire city of New York. That was the show that paved the way for us."
Agnostic Front wasn't the only NYHC band that was fans of Cold As Life. Despite Cold As Life's burgeoning reputation in Detroit as instigators of violence at their own shows, Pete Koller of Sick Of It All remembers an incident at a Detroit show circa '91-'92 this way: "I think it was our second time playing in Detroit at St. Andrew's Hall. Cold As Life is on the bill and the place is packed. When Cold As Life was playing, there was a whole bunch of straight edge guys and girls and the Cold As Life Crew. Cold As Life were on and it looked insane out there. It was crazy. The straight edge dudes and the other people didn't get along, it seemed. So anyway, we're all warming up and getting ready to play and we're all thinking, 'This is gonna be crazy,' 'cause when we walked on stage, on one side of the club was all the straight edge people, on the other side of the club was all the Cold As Life Detroit Crew. It looked like there was gonna be an all-out war. It was ready to explode. So I can't remember who it was in Cold As Life, but someone from the band came out on stage, grabbed the mic and said, 'You straight edge kids hate us and we don't like you, but we all love Sick Of It All, so let's have fun together this one time'. Then we started striking up the first few chords and it was insane crazy! The pit was a furious storm of human bodies … people were diving off balconies, catching each other and having a great time. It looked crazy violent but everyone was just having fun. Exactly the way it should be."
We've had a taste of what's to come.
Deny all you want there's nowhere to run.
Your life's just been blown away.
It's just gonna have to end that way.
—From "Ten to Midnight", lyrics by Rawn Beuty
While the band's career was taking off, playing in town and on the road, Rawn's life was characteristically chaotic. Estranged from his fiancée Jessica and their daughter Zoeie, he was living with a skinhead named Rich Werstine. Rich had quite a reputation for violence himself, and had worn out his welcome with various cliques within the Detroit scene. Rawn was no stranger to wearing out welcomes, and, despite the more than occasional physical confrontations when something angered him, Rawn was extremely loyal to those he considered friends.
He considered Rich a friend. But at 2:15 a.m. Sept. 16, 1993, someone, according to citizen watchdog group Crimestoppers, called Detroit Police and said he was in possession of a dead body. That body was identified as Rodney A. Barger, aka Rawn Beuty, dead for hours allegedly from multiple gunshot wounds (his official date of death is Sept. 15). Rawn was determined to have been shot in his sleep. The wounds were so severe that the metal apparatus substituting for his rib cage was visible under his shirt in his casket. He and Jessica's daughter was just 2 months shy of her second birthday.(A Freedom of Information request for details of the murder could not be provided by press time and that information is pending).
After burying Rawn — quite literally, as the caretaker of the cemetery dumped a mound of dirt next to the gravesite and allowed friends and loved ones to shovel it on top of the casket — the band decided to keep going. The first choice was Rawn's best friend and vocalist of Screaming Bloody Leper Children, Dominic "Keef" Capo. Keef declined.
"I got hit by a car at Dally in the Alley," he says. "Had surgery on my leg. I was lying in my hospital bed when I heard Rich killed Rawn. I was devastated … when Rawn and I lived together, we would drink all the time. One night we talked about whoever died first — if we didn't die together — the other would take over for each other's band. They shot me up with morphine so I could be a pallbearer at Rawn's funeral. A couple months later, Cold As Life was practicing and Jeff [Gunnells] asked me if I wanted to come sing. I was self-medicating … taking pills after getting hit by a car. … [Someone] in Brightmoor turned me on to heroin. … I turned down the offer [to front the band]. … I didn't keep my promise. … I let my brother down. … I was too fucked up to even care."
The band subsequently decided that since Keef didn't want to step into Rawn's Doc Martens, that no one could. So the two guitar players became "stewards" of the microphone, taking turns singing Rawn's lyrics, eventually entering the studio in 1995 with Speedball guitarist and producer-engineer Bill Kozy to record some demos, their first material without Rawn singing but with Rawn's lyrics and memory at the forefront. Then the band "imploded" in the words of Mike "The Gook" Couls, with Jay Way and Jake Loch leaving the band. Couls, then only 16, would join the band on bass, along with Johnny "Hate" Meyers on guitar. Their first live show with the new lineup was in the spring of 1996 at St. Andrew's Hall at the inaugural Steve Krass benefit. Krass, frontman of the Feisty Cadavers (and a guy who employed Rawn briefly at the telemarketing firm he managed) was gunned down in front of his girlfriend during an attempted carjacking outside Harpo's during a Motorhead-Speedball show. (Yes, boys and girls, Detroit didn't used to be all poutine and bike rides.)
I know you won't listen
But I wrote this song to say,
You're my brother,
I don't want to see you dead someday.
—From "Cold As Life," lyrics by Rawn Beuty

A demo was recorded with the new lineup; then, in 1998, after turning down record deals "from all the major players in punk, hardcore, and metal" according to Couls, the band released its first full-length album, Born to Land Hard, and toured North America and Europe. Six of the 13 songs on the album were penned by Rawn Beuty, who in death had become an even more mythical figure than he was in life. If violence was his legacy (but certainly not always his fault), it has carried on for much of Cold As Life's career.
"The first time E. Town Concrete played Detroit [Lincoln Park, actually, at a small venue on Outer Drive and Dix], or was supposed to play, a full-on riot broke out," Couls recalls. "We didn't finish, and E. Town didn't get to play, but the guy who started the fight ended up getting thrown into one of those machines that has the [claw] arm that fishes out the stuffed animals. It was like out of a movie."
At a showcase for Victory Records in Chicago, a fight was responsible for the band's set being canceled, though Boston hardcore outfit Blood for Blood did play before the fight and signed with Victory, just one incident that nudged Cold As Life to the DIY route. (They released a second album in 2000, Declination of Independence. It contained material written after Rawn's death with the exception of the track "I Can't Breathe," in which the band used some of Rawn's lyrics).
Fights at Cold As Life shows were not just reserved for the pit, they also occurred onstage, between band members themselves.
"Like our first European show in Holland, Johnny was a wreck, drank a half gallon of Jim Beam to himself. He started knocking into us and our gear. I kicked him in his gut," Couls says. "He flew back, then Jeff [Gunnells] kicked him in his face, then smacked him with the mic. We resumed, then a fight broke out [in the crowd], guy got his ear cut off, the show got stopped. Saved us from our train wreck."
The band's cohorts, comrades, and followers go by the moniker Colder Than You Crew. Among some members of Detroit's hardcore and punk rock community, their reputation is far from the peace, love, and balcony-diving understanding that Pete Koller describes. "Alpha male members of the hardcore scene" is how Mike Couls describes them. "It was never a gang and there are no illegal agendas." Longtime Cold As Life road manager, merch guy, booking agent, "and anything they asked me to do" guy Douglas "Dougie" Toms concurs: "It's just the brotherhood that [was] friends with Rawn and the band."
From my viewpoint, that's basically correct, but might leave out some shenanigans that may have occurred at a few shows, and none of the CTYC guys have the physique that will risk them getting asked to go down a well to rescue a trapped toddler. In short, if you fucked with them, you did so at your own peril.
Though the band was soaring in popularity, the members had had enough of the internal turmoil and the surrounding tragedies and disbanded in 2001. Jake Loch died of a drug overdose that year, and Johnny "Hate" Meyers succumbed to substance abuse in 2006. Ironically, the original lyrics to "Cold As Life" were written by Rawn as a plea to get a close friend to stop using drugs.
Cold As Life would remain completely dormant until 2007, when brief reunions and sporadic shows began, lasting through 2011. The specter of death continued to follow the band, as Guitarist Emery Keathley died of a heart attack in 2009.
It makes sense, then, that it was death that propelled them back on stage. Following the May 10 death of former Hobo Gangbang frontman and Comet Bar ringmaster deluxe Dan Meder, Cold As Life was urged to play a set in his honor July 11 at Corktown Tavern for MotorCity Fest.
Once again, a call went out to Dominick Capo. Clean of drugs since the aftermath of Jake Loch's death, and having recently resurrected S.B.L.C. as "Surviving Brothers of the Last Crusade, he stagedived at another chance to front his late best friend's band. "I finally get to make good on the promise I made to my brother," he says. And once again, after having been through more deaths and member changes than Skynyrd and the Bar-Kays combined, Cold As Life is poised to take another rip at being a touring, recording hardcore force to be feared, admired, and reckoned with. There is already interest from promoters in North America and Europe and the band has new material, including one with lyrics by Capo entitled "Clockwork Destructors."
Churches on fire … another liar,
Terror are these streets,
This is how you'll retire.
The way we live,
The way you die,
Sin's our answer,
No reason why.
—From "Clockwork Destructors," lyrics by Dominic Capo
Detroit's resurgence, in the eyes of Cold As Life, will not be lyricized.
The latest incarnation of Cold as Life: Capo, Bates, and Couls, with Chad Kirk from Cycle of Violence on guitar ("There was no second choice" Capo says) plays Friday-Saturday, Dec. 18-19, at Corktown Tavern, 1716 Michigan Ave., Detroit, Friday Cold As Life will play a "brutal hardcore" set with support acts Aztec, Poison Tongues, and Freedom. Saturday features Cold As Life's "Punk Rock Droogie" set with Detroit 442, Bad Assets, and the Gutter Ghouls. Their eponymous song, "Cold As Life," is the only song that is scheduled to be on the set list for both shows. Admission is $15 per night. For more information, call 313-964-2103.
@jamesdoom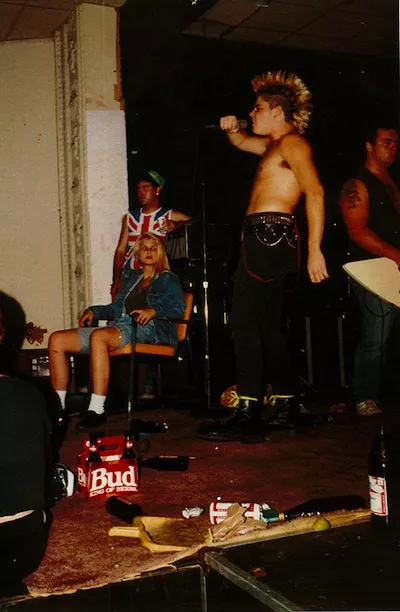 Photo courtesy Mike "The Gook" Couls, Cold As Life
Rawn Beauty onstage with Cold As Life at what appears to be Graystone Hall in the 1980s.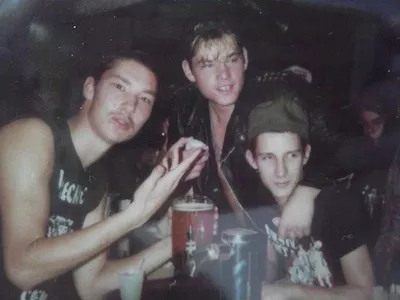 Photo courtesy Douglas Toms
Douglas "Dougie" Toms, Rawn Beuty, and Ed Haushalter in 1988.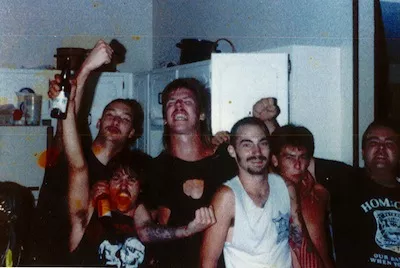 Photo courtesy Mike "The Gook" Couls, Cold As Life
Young party days: (Left to right) Dougie Toms, Roy Bates, unidentified, Jeff Gunnells, unidentified, and Jay Way, circa 1988.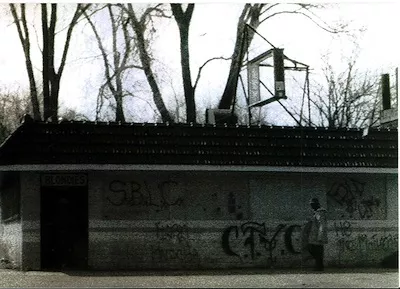 Photo courtesy Mike "The Gook" Couls, Cold As Life
The original Blondies on Seven Mile Road in Detroit, adorned such Detroit hardcore graffiti for CTYC, H8 Inc., and SBLC.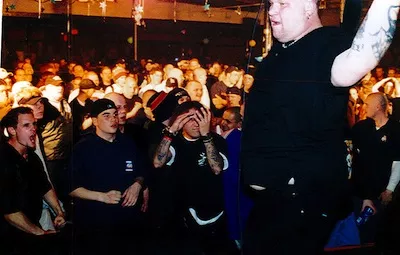 Photo courtesy Mike "The Gook" Couls, Cold As Life
"Big Dog" onstage with Cold As Life in Canada, 1999.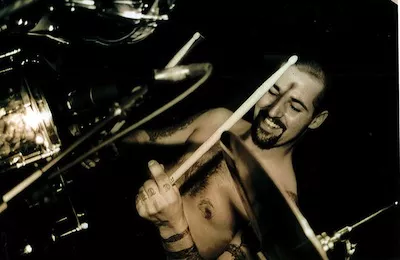 Photo courtesy Mike "The Gook" Couls, Cold As Life
Roy Bates on drums with Cold As Life.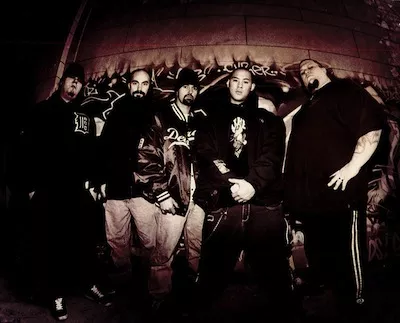 Photo courtesy Mike "The Gook" Couls, Cold As Life
The Cold As Life lineup that toured Europe in 1999 and 2001.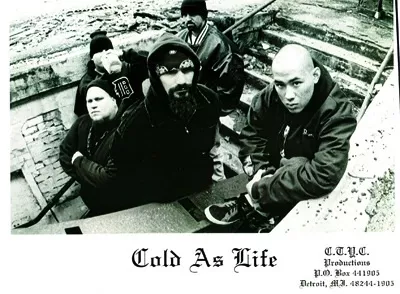 Photo by Bob Alfred, courtesy Mike "The Gook" Couls, Cold As Life
Publicity still for Cold As Life from the 1990s.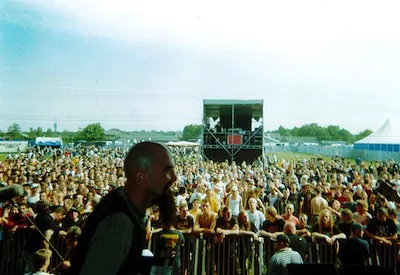 Photo courtesy Mike "The Gook" Couls, Cold As Life
Taking the stage at Dynamo, an outdoor show in Windoven, Holland, 1999.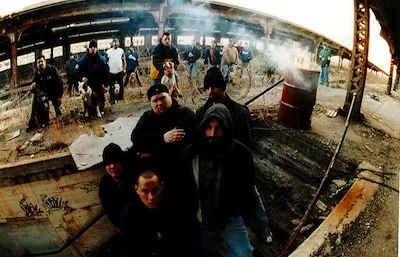 Photo by Bob Alfred, courtesy Mike "The Gook" Couls, Cold As Life
Publicity photo for Cold As Life shot behind Michigan Central Station in Detroit.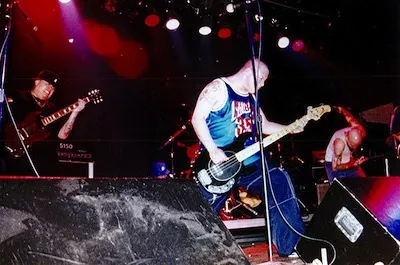 Photo courtesy Mike "The Gook" Couls, Cold As Life
Cold As Life plays at St. Andrew's Hall, 2000: (Left to right) Johnny Hate, Mike Couls, Jeff Gunnells.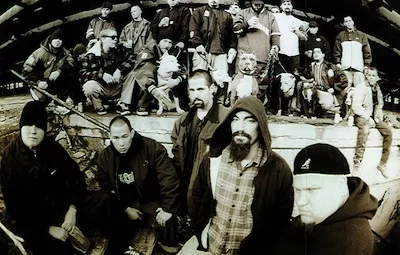 Photo by Bob Alfred, courtesy Mike "The Gook" Couls, Cold As Life
The band with some of the CTYC guys, and more than a few pit bulls. Donnie Cox (top center with flight jacket), did album and poster art for the band.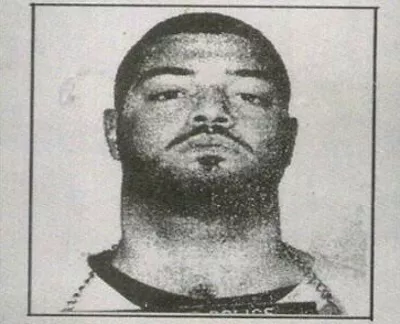 Photo courtesy Crime Stoppers of Michigan
Rich Werstine, pictured, has long been suspected in the 1993 killing of Rawn Beuty.