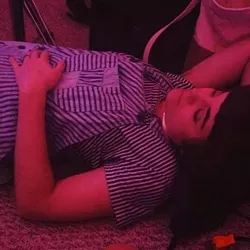 Two weeks ago,
Autumn Nicole Wetli
, the lead singer and guitarist for
Rebel Kind
, put six songs up on Bandcamp. These were all recorded and mixed by Fred Thomas just last month, when Thomas was in the area over the holidays to record a dozen bands and play shows and do family stuff (because apparently that guy has the energy of ten normal people).
Naturally, Autumn plays guitar and sings on the songs; four are originals and there's a Roy Orbison one, plus a Smiths cover.
The EP is called Let's Keep Things Weird.
It's really good.
Fred Thomas - bass on track 4, drums on track 3 & 6
Shelley Salant - bass on tracks 3 & 6
Amber Fellows - vocals and keys on track 5, synth on track 1, floor tom on track 2
For now, the songs are available on
her bandcamp
as a digital download, but it will soon exist physically, perhaps as soon as
Rebel Kind's show this Friday
, opening up for Protomartyr at the Blind Pig in Ann Arbor. "I'm playing a solo show February 13th at Dreamland in Ypsi and definitely asked to have them by then," Autumn says. Bandmate Shelley Salant's label Ginkgo will release the tape.
We asked Ms. Wetli to walk us through the songs from the release, and with the exception of
"The Flowers and the Trees,"
she said some stuff about each track.
The following is all in her own words, then:
Baby Doesn't Want Me No More
- This is an old one. Think there is some sort of version of it on my second Rebel Kind cassette tape from 2013. I've played it at solo shows some and wanted to try recording it again. Super simple tune. Wanted it to be more atmospheric and Fred nailed it with the synth and echoplex on the vocals (I think that's what he used).

Crying
- I've had this idea for a super simple, raw cover of "Crying" for a long time. Tried recording it years ago with someone, but it didn't work out. Wanted to try the experiment again! A friend told me I sounded like I was upside down singing in a cave.

Deja Vu Romain
- I've wanted to try writing songs/create a band that sounds more "post-punk" or Lora Logic-y and this and "The Flowers and the Trees" were my attempts to do that. Turned out different than what I had in my head, but am super happy with how they turned out! Knew Fred and Shelley would totally get what I wanted in regards to drums and bass. Been working on some more tunes like this and the poss of jamming with some friends.

Never Trust
- This one has been sitting around for a little bit. I've played it at some solo shows. More of a country, twangy jam. Wanted to record it for posterity.

Please Please Please
- As most people know, I'm a HUGE Smiths fan. Played it a couple times this past summer with Amber backing me and just loved the way the harmonies sounded. Sometimes we all feel Moz's words.