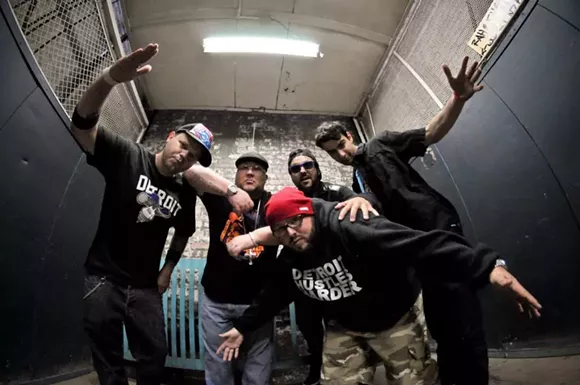 1. How did the Prime Eights come into existence?
The Prime Eights are an alternative hip hop band consisting of two vocalists, two guitar players, a bass player, drummer and DJ. However, Mike King and I (John Stone) were originally known as Abstrakt Intellekt, a hip-hop group active from 1999 until 2010. After three record deals and a long history of ups and downs it became apparent that we were outgrowing the songs that we spent a decade supporting. Just like anything else, you need to evolve to stay relevant so that's when set out to find the best musicians that were available to push the musical envelope even further.
2. You guys are a bit of a bluesy, rock-rap group. Is that the best way to describe your sound?
We are officially classified as an alternative hip-hop band, but we don't like to pigeon hole ourselves. Half of the reason why we perform with a band is so that we can do whatever we feel sounds good to us. We are a product of the golden age of hip-hop and have a very diverse musical palette, including rock, blues, reggae, funk, etc. We grew up on rock, rap, grunge as well as hip-hop. And chances are if you loved the music of the '90s then your going to be right at home with our type of sound. We give a voice to the disenfranchised music lover who feels like they don't have a voice in todays commercialized entertainment climate.
3. You guys are from Downriver right? MT first explored Downriver hip-hop last year. What do you think people misunderstand or get wrong about music (and people) from Downriver?
We have been proudly holding the flag of Downriver for almost the last 20 years and we are happy to see any coverage of our hometown. I cant lie, however — I was surprised about our lack of a mention in that particular piece. Outside of the fact that I have been the primary hip-hop promoter for most of the 2000's Downriver, we have been on the scene longer than 90% of the people mentioned in that article. I have seen many artists come and go, and I have also seen many of these guys develop into very notable artists right in front of my eyes. These days I'm not quite as active as I used to be, but I make sure that I show support for anyone who's doing things out here when I can. Even if you're not my particular flavor. If you're from Detroit, and ESPECIALLY Downriver and your out there trying to make a mark on the hip-hop community then you have our full support.
People may think that Downriver is nothing but trailer parks, teen pregnancy and pill addiction but out here we have always had a strong music scene. This is a town full of blue collar, hard working people that work hard and play harder. I have seen multiple generations of musicians pass the torch to each other and have finally started to see that glass ceiling start to crack a little bit.
4. What inspires and motivates you guys the most?
I really hate to sound cliché, but life. Our experiences, interests, tastes, and struggles are all constant variables that affect our music and overall "sound." Inspiration comes from some of the most obscure places sometimes, and whatever it takes to harness that gift is something that cant be ignored.
5. What's next for you guys? What shows? What projects?
Over the last two years we have finally been making headway nationally and internationally. We plan on furthering that agenda by continuing to support our debut album
This is NOT a Real Gun
. We also have our fourth video ("Forever") dropping shortly, and we are currently working on new music. What that becomes remains to be seen (EP or LP). I have two big out of state shows I'm working on, and I am currently laying the groundwork for our first two local shows of the 2016 campaign. We are also going to continue on building our relationships with the local press and radio. In this age of oversaturation, it takes a lot to separate yourself from the pack. It's a slow grind, but no one ever said it was going to be easy.