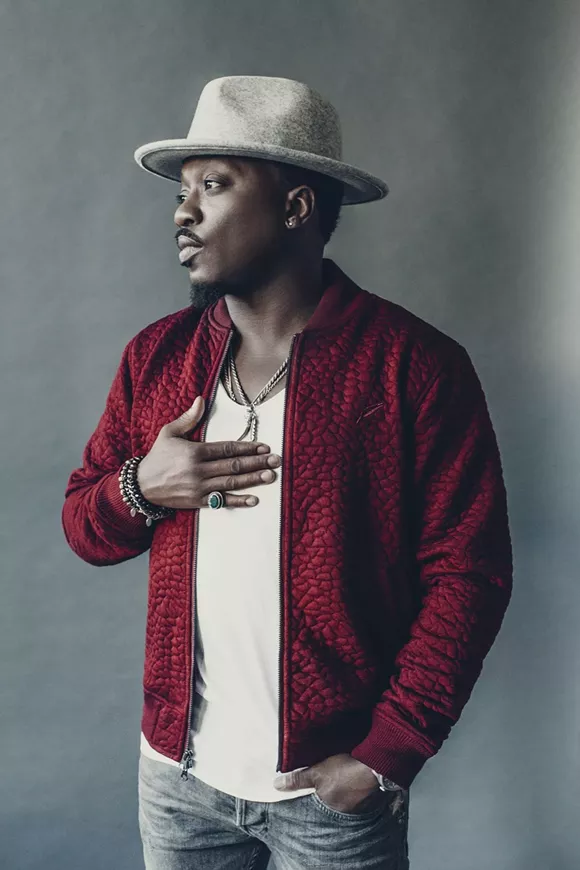 Promotional photo supplied by artist's management.
Anthony Hamilton.
Multiple Grammy Award-winning singer Anthony Hamilton brings his repertoire of soulful ballads and crooning classics to
Detroit's Fox Theatre on Friday, April 22
. The Big Axel is the second stop of a 10 date tour that also features the R&B songstress Fantasia. The North Carolina-born soul singer is riding the wave of his ninth album What I'm Feelin. The album is another extension of Hamilton's southern vintage sound. "It's honest. It's coming through the divorce and making life beautiful again," he says through the exciting chatter of his tour bus.
Hamilton is no stranger to Detroit or Detroit's artists. Hamilton talks about preforming in Detroit early in his career and working extra hard to reach a tough crowd because, "Detroit knows what good music is," he says. He's also done hooks for Royce Da 5"9's Slaughterhouse, toured with Slum Village, and met legendary Detroit producer J Dila. "I met J Dilla back when I was singing background for D'Angelo," Hamilton says.
Many critics and music writers consider Hamilton one of the last beacons of hope in an R&B world that at times feels identical to the hip-hop world. Hamilton disagrees. "I don't care who wants to rap or who wants to sing; it's about making a great song," he says. "Make good music, put it out, and let's tour. If Drake does a song and he sounds good singing it, then I'm happy for him. If I come out with a rap and it's not good, I won't be happy with it. You got to let the artist be the artist and let them do whatever they feel. We're expressive people and we want to come out of our so called box that people put us in to express ourselves."
Hamilton's performances usually attract an age-diverse crowd, and he's always been known as a top notch performer and plans on continuing to build that reputation Friday night at the Fox. "We give a lot of energy and personality at our shows, and the band is always live. It's basically like a huge family reunion."