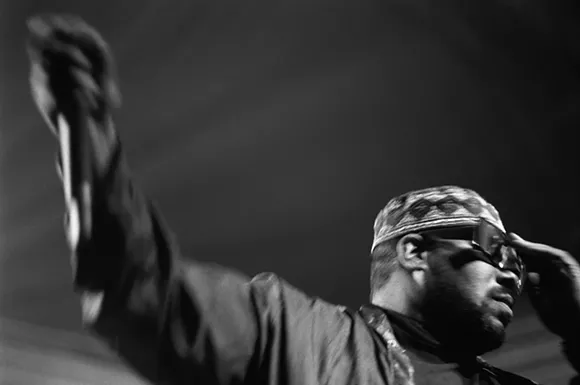 Image courtesy of Wikipedia.
In case you were planning to attend Afrika Bambaataa's series of events at D.I.M.E. in downtown Detroit on Sat., April 23, we're sorry, but they have all been canceled. We're posting this because we still saw posters up for the event in area record stores and coffee shops as recently as yesterday, and don't want anyone showing up.
Initially, Afrika Bambaataa, "'The Godfather' of hip-hop, founder of the Universal Zulu Nation, and one of the seminal figures of electro-funk and international DJing," was to give "a master class, meet and greet, and DJ performance at D.I.M.E. on Saturday, April 23rd, starting at 3 p.m."
In the last two weeks, four separate men have come forward to allege that as young teens they were
molested by the hip-hop pioneer
. Unfortunately, this crime is beyond the statute of limitations; the victims were supposed to have gone to the police within
three years of the occurrence
.
Bambaataa, who
denies the allegations
, has seen
multiple artists speak out
against the heinous acts he's accused of, and Cornell University, which announced this year they'd acquired his massive collection of vinyl and would make it available to researchers, has faced its own
wave of criticism for that decision
.