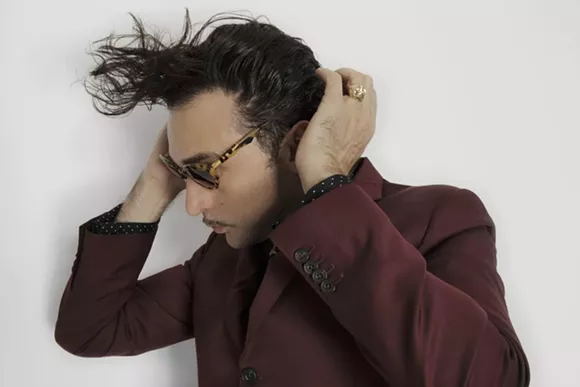 Photo by Alexander Thompson.
Superstar R&B/soul/rock 'n' roll party DJ Jonathan Toubin returns to Detroit with his Night Train party this Saturday, April 30. There is a judged dance-off with cash prizes, and in general more fun than you can possibly shake a stick at.
"I offered you
my six favorite Detroit records
last time," Toubin writes. "So this time its not really my next favorite six (as I'd repeat Nathaniel Mayer, the Falcons, etc) but rather six more all-time favorite Motor City masterpieces that I regularly turn at my dance parties. I made you a youtube playlist here and it's all uploads of my own o.g. copies that I play."
SIX MORE DETROIT KILLERS FOR THE METRO TIMES: A YouTube playlist

1. The Egyptians, "Party Stomp" (Mah's, 1960)
: If this blazing 1960 instrumental by a mysterious turbaned trio isn't the best party record of all time, my name is Sam the Sham…

2. Lee Rogers, "Troubles" (Mah's, 1962)
: prolific D -Town soul singer's first solo outing after leaving The Barons is packed with cool dynamics and the singer's wildest vocal performance on record…
3. Spyder Turner, "Ride In My 225" (Fortune, 1964)
: This virtuosic soul star got his start with a gritty pounding ode to… what else…. A brand new car just off the line… Specifically a Buick Electra 225! Check Spyder out live! He still cooks!
4. Nelson Sanders "Mojo Man" (Rambler, 1967)
: An under-recorded and under-rated Detroit vocal genius screamed his way through a couple of the heaviest and finest raw soul tracks ever made. "Mojo Man" is the best!
5. Sherri Taylor "He's The One That Rings My Bell" (Glorelco, 1962)
: Another of Detroit's most under-rated and under-recorded vocalists turns it on with this propulsive cymbal crashing popcorn soul dancer!
6. Ruben Fort "So Good" (Anna, 1960)
: Though little is known about Little Willie John-informed vocalist Ruben Fort, both of his records are So Good!
+ BONUS TRACK: Butch Vaden and the Nite Sounds "Harem Girl" (Fortune, 1963)
: modernist dance-floor pentatonic geometrics from a kinetic minimal ensemble led by Nathaniel Mayer's incredible drummer… With that inimitable Fortune Records 45 mastering!