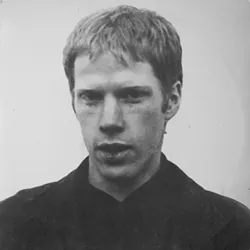 Cover to 'The Living End' by Jandek.
Jandek
is a notorious and idiosyncratic loner folk/blues/noise artist. He performs at El Club tomorrow, Friday, June 3;
tickets are $20 and still available from ticketfly.com
.
Beginning in 1978, Jandek self-released albums of his own music for decades without ever appearing in public, doing any interviews, or releasing any information about himself. This is pre-Internet, obviously, when one could be anonymous more easily. The only information was the post office box and his record label, Corwood Industries, in Houston, TX.
Jandek's music is resolutely not for everyone; whatever you think of his work, Jandek is a true outsider artist. And the fact that he now plays shows out in front of real audiences of people is excellent news.
Get pumped for the show with 25 of the loner genius' finest jams! The list was compiled with assistance from Ricardo Wang of Portland, Ore.