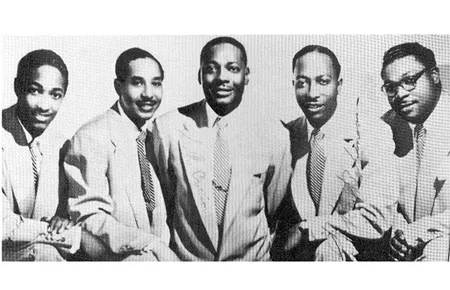 Sam Cooke with the Soul Stirrers. Photo courtesy Specialty Records.
A few years ago, I was at a party for a friend's kid. In the midst of a brief lull, my friend April dramatically waved me back into the kitchen to whisper a secret. The huge secret? She finds old-school black gospel music unbearably
sexy
. I was about to laugh, when I saw how serious she was.
Clearly, she felt bad about this, despite not being very religious. Clearly, she feared judgment. I smiled, then spouted something like, "Well, with any music that has such raw emotion — that at its peak often has shouts and cries of ecstasy — there's bound to be a thin line between the sacred and the earthy." Her confession stayed with me, though, and I think that part of her trepidation might have been that to feel this way somehow diminishes one's enjoyment of gospel music.
Perhaps it's not a matter of spiritual heresy but a cultural one, as if her brain were performing an act of, if not misappropriation, then at least misunderstanding. Early in my gospel research I found that, as Robert Christgau dryly puts it in his review of Peter Guralnick's Sam Cooke biography
Dream Boogie
, "the gospel circuit never equated holiness with chastity." Irrespective of that, it was clear: April had a point. A lot of this Jesus music is pretty damn sexy!
This conflation of gospel and sensuality goes back to the first gospel recording I fell in absolute love with myself in 1996, "Touch the Hem of His Garment," by the Soul Stirrers. "Touch the Hem" is from the group's second-to-last session with Cooke in the band: Feb. 2, 1956, in Hollywood. The song was written by Cooke, later recorded by a handful of performers in the next dozen years. I mention that because Cooke's songwriting during his tenure as the group's main lead often goes overlooked, but I'll get to that later.
The song opens the career-spanning 1986 RCA collection
The Man and His Music
, the first Cooke recording I bought. I soon found it hard to get beyond that first song, which begins "Woahhhhhh, there was a woman ..." — brief but sexy pause — "... in the Bible days/ She had been sick, sick so very long." It then recounts a Biblical instance of a woman healed by Jesus.
But in starting with that phrase, "There was a woman," sung with what Cooke biographer Peter Guralnick called a voice that is "smooth, insistent, and utterly beguiling," it was clear that here was a music where spirituality could freely coexist with other desires, that this was acceptable — even if that translates to acceptable so long as it's never spoken of. The song is not sexual, despite the touching of garments in order to be made whole — it's not that at all; it's the deep sensuality of the voice, all wrapped up in Cooke's delivery.
Sometimes something is so beautiful it's difficult not to be turned on, at least a little. His acrobatic croon mesmerizes, and it's not simply the signature yodel. Guralnick wrote that Cooke possessed the kind of easy grace that cannot be practiced or assumed at an early age. Surely he sang that way as well. Nelson George wrote that Cooke used understatement to showcase his "satiny midrange and natural vibrato."
Cooke was born in Clarksdale, Miss., and grew up in Chicago, the birthplace of modern gospel music. His main musical influences, aside from the raucous and percussive sacred music of his Pentecostal upbringing — his father Charles was a minister in the Church of Christ Holiness church — were singers such as the Ink Spots and the Mills Brothers — and it's easy to hear his affinity for the blues. Chicago was not only ground zero for gospel, it was pretty important for blues. Cooke was undeniably exposed to the music there, though his father forbade it. The same great migration that started in the Depression and caused huge numbers of blacks to migrate from rural areas to Northern cities brought gospel's patriarch Thomas Dorsey plus Mahalia Jackson and Sallie Martin to Chicago, as well as Elmore James, Muddy Waters, Willie Dixon, and on and on.
By the late '40s, a new wave of brash young quartet-style gospel singing emerged, distinct from the barbershop-ish chankalankalank of acts from the '30s and '40s. These new "hard gospel" acts were extremely flamboyant and intense, nattily dressed, cool, and often handsome. Cooke got his start in a tamer family group assembled by his father, then as a youngster he joined the Teenage Highway QCs. They regularly showed up at gospel programs and churches and stole the show.
Ministers began to complain at the attention the QCs got from female parishioners of all ages when Cooke had himself just hit puberty.
Among the most popular and forward-thinking quartets around was the Soul Stirrers, led at the time by R.H. Harris. In
The Gospel Sound, Tony Heilbut
writes that R.H. Harris & the Stirrers "simply created the entire gospel quartet tradition," which is just a bit of an oversimplification. Recent research by gospel historian Doug Seroff has found that Harris might likely not have been the first group leader to institute the double-lead tradition in which two singers double off on lead vocals, at times even trading back and forth word for word. Harris doubtless popularized this more than anyone else, as he made the Soul Stirrers into the pre-eminent gospel quartet in the country, and he ingeniously timed his own singing off the beat to create a complex mass of shouted vocal interplay.
Harris contends that he left the Soul Stirrers because the group had strayed too far from church teachings. As Bobby Womack explained it to VH1 for their
Say It Loud
special, "Traveling around, R.H. Harris got to a point where he couldn't perform in different cities because he was always under arrest for child support. He had children everywhere. You take a guy like that into court and say, 'How could this guy be in all these places?' They'd say, 'He does one-nighters onstage and one-nighters with the women.' It got so bad that he couldn't go on the road anymore. That's when he got Sam to replace him. He was giving Sam voice lessons, and he said, 'This kid would be good for the group.
He can travel
.'"
The main thing that differentiated Cooke is that he led a modern gospel band in the shouting era but he never shouted, himself. An anonymous fan on eMusic (where I used to have a monthly gospel column) wrote that Cooke had this very crowd-pleasing, lady-killing style full of vibrato and melisma, and he also offered impeccable diction, bent notes that traded on their poignancy for power. Young women began to show up to their performances and go crazy whenever Sam stepped to the mic — even before he opened his mouth. The group's image became far more a part of the show now, the band all dressing nattily in white silk suits. He also brought in a full backing band; within months, other acts copied both moves.
I want to quote Bobby Womack again, singer and guitarist for a number of gospel acts at the time, including the Five Blind Boys. Womack was in awe of the singer, often seen as his protégé; he not only wound up later recording for Cooke's SAR record label, but even married Cooke's wife Barbara mere months after Cooke's death. "There would be loads and loads of young pretty women, all there to see Sam. It was like a rock 'n' roll show. The preachers didn't like it, but they liked the fact that he was able to draw the younger generation in the church.
VH1: So was Sam like gospel's first sex symbol?
Womack: I think so. He was a good-looking guy, and chicks chased him to the car just like they would be chasing some big rock star today. They was constantly chasing him. He would turn around and chase them back! Onstage, he would play with them. He would look at women and wink, go down and touch them on the knee. They loved it.
Sam Cooke was gospel's first sex symbol, and he was also, lets face it, a total dog. He slept around, had orgies, got many women pregnant, then ran back to his wife. He was by all accounts addicted to sex with prostitutes and died half naked in a cheap motel on the outskirts of Los Angeles while allegedly assaulting the woman who owned the place. But you know, except for the death part, I think I could just have described David Copperfield or the weird freckled kid from
The Partridge Family
. Far too much is made of the seedy side of Cooke's life.
And here I have to admit that my thesis grew more and more simplistic the more I dug into my subject matter, to the point that it vanished in front of my eyes. Surely the almost nine-minute live take of "Nearer My God to Thee," performed in Los Angeles on July 22, 1955, develops as a series of climaxes built atop one another, the whole group winding each other up, vocal whirling dervishes. But in spite of all of Cooke's sexy charisma, it's geared toward a different kind of ecstasy. Listening to it is like watching a group of gymnasts throw their lightest and strongest member straight towards the stage lights as he twists and turns, then disappears.
The Shrine Concert that this performance is from was overseen by Specialty label head Art Rupe after gospel singer Brother Joe May had suggested the idea to do a live recording. May had been blown away by a series of live 78s issued by Reverend Killens in the late 1940s. "People are shouting and carrying on," Brother May wrote in a letter to Rupe in the early '50s. "To tell you the truth, I could do this better if I would rehearse it." The Shrine Concert was the largest event of its kind on the West Coast. In
Singing In My Soul: Black Gospel Music in a Secular Age
, author Jerma Jackson compares the milestone event in size and scope to Sister Rosetta Tharpe's wedding concert in July 1951 — when 15,000 people descended onto Griffith Stadium in Washington, D.C., to celebrate the guitarist and singer's wedding ceremony followed by musical performances.
Held at the 6,500-person-capacity Shrine Auditorum in Los Angeles, the Shrine show was officially called the First Annual Mid Summer festival of Gospel Music, virtually ensuring it would be a one-off event. Rupe had both large and well-known acts on the bill: the Pilgrim Travelers, Brother Joe May, the Soul Stirrers, and Dorothy Love Coates with the Original Gospel Harmonettes, who had the unenviable task of following the Stirrers. Veteran L.A. disc jockey Brother Clarence Welch produced the event, while Seattle-based producer, musician, and con artist Robert Bumps Blackwell was enlisted to oversee the recording, as he'd spent years recording his own jazz band live.
What does it mean that this is the only time we ever really get to hear Cooke shout like this? How can it be that he's delivering his curlicued yodel as a shout at various points throughout this thing? And listen to the response every time he does — it's totally causing a mass falling-out throughout the entire auditorium. At times Cooke's trading off on lead with Paul Foster, as on the chorus, but this is Cooke's song and you know it. On one hand it feels like Cooke is betraying something essential about himself with this recording — it's the opposite of smooth; from another perspective this is the realest Cooke ever sounded on a recording. This wouldn't be heard for 20-odd years of course — not in Cooke's lifetime.
Where many commercial gospel recordings of the era — absolutely wonderful as they are — exist to quickly evoke "church" in two- to four-minute bites, winding up quickly towards that ecstatic release point, it's astonishing to hear what a gospel program with the greatest voices of the day — the ebb and flow and the buildups that lead to buildups — was really like. We're all aware that many sociologists insist the very function of African-American holiness and related traditions is to induce that ecstatic state, the trance, the "falling-out," that a parishioner has not even been to church if he or she has not left one's body, yelled aloud, spoke in tongues — depending on the denomination. The holiness movement was in many ways spurned by the ecstatic and extended Azusa Street Revival in Los Angeles at the turn of the last century, but these impulses are ancient.
The song itself, "Nearer," is remarkable. Guralnick considered it the best thing he'd written to date and that "for once you feel as if you might be peering into Sam's own soul" he writes.
Cooke's songwriting is as much about removing words and syllables as anything; they're little distilled poems that remind me a little bit of what I like about a second generation New York School poet like Joe Brainard or Anne Waldman. This might be a stretch, but thanks for following me there. Basically what you're left with seems so simple as to be kind of stupid at first but then you realize whatever it is, it's just been said perfectly, simply stripped of affect. In the case of a Sam Cooke pop song one's often left with cheesy schmaltziness, but it's so beguiling and transparent it rarely seems treacly; because of his delivery, you really believe that this person has sent him when he sings, "You Send Me," and every word is like a cloud of cotton candy freshly spun at the fairground just for you.
On the gospel recordings, Cooke was clearly trying to communicate a different kind of emotional state. His songs are story-songs in the pastoral sense. These are scenes you've just been dropped into. They're not showy or ornate, but they are evocative. One remarkable thing about this song is the manner in which it celebrates a very popular hymn.
At the same time that it's its own new composition about Sarah Fuller Flower (later Sarah Flower Adams)'s infamous "Nearer, My God to Thee" it's a meditation on the way the song has affected the narrator, and the ways that hymns can get the listener over in general.
Sketch of Sarah Fuller Flower Adams, after an 1834 sketch by Margaret Gillies. From Wikipedia.
Sarah Fuller Flower
— say it 10 times fast — had her sister Eliza set the words to music for the original hymn, which is based on the part of Genesis that tells of Jacob's dream, wherein God revealed to Jacob the full glories of heaven despite the fact that where Jacob was at the time was anything but, by placing a ladder for him that reached on up to heaven. Sarah Fuller Flower herself wrote the hymn after waking from a dream.
She died at the age of 43 in 1848; both sisters passed away from consumption, TB. "Nearer My God To Thee" would not nearly be as well known today were it not for the hymn's association with the Titanic — the band played on as the ship sank, cycling through this number, until they couldn't. McKinley is said to have quoted the hymn on his deathbed, while the thing's been played at numerous Presidential funerals since then too.
The reason this song is based on the hymn "Nearer My God to Thee" is simple; it was Cooke's mom Annie Mae's favorite song. The emotional core of the song tells of Cooke wondering what his mother is doing when she retreats to be by herself, so he follows her to find her on her knees singing the hymn, alone. Cooke had been raised with a forward-thinking, black pride consciousness; he was taught to think for himself and not back down. In the many Sam Cooke family myths, there's one where a group of bullies harassed him on the way to school every day, until finally he wore them out with his sheer persistence; they grew tired of him. Much of this, he got from his mother who herself grew up in a short-lived experimental all-black community in the South at the start of the last century.
But, she was also his mom and stuff, so of course he wrote a gospel song about her! The Five Blind Boys of Alabama alone wrote so many mother-themed songs that when Lee Breuer put his 1985 musical
Gospel at Colonus
together — a gospel version of Sophocles' tragedy — in a genius stroke, those dudes were collectively cast to portray Oedipus.
The first two verses of Cooke's "Nearer" set up a very old-time-religion sweet little scene: "The minister was preaching/ and the crowd was standing near/ The congregation was singing a tune/ in a voice that was loud and clear/ You know the crowd stood around him/ they were crying, I could plainly see/ For the song that they sang was touching/ they were singing: Nearer my God to thee." Then the entire group busts into the hymn.
And just when you think this is maybe all too much, that it's too Hallmark for Hallmark, Cooke blindsides you with the following verse "Sometimes I like to be in company/ And then again I like to steal off all alone/ Song is the only thing, Father, that will console me, Lord/ when I know trouble is about to come," which is just realer-than-real levels of vulnerability. And the real kicker is this following verse which adds to the analytical deep thoughts vibe beautifully; "Songs have a feeling/ There is a story in every song we sing/ Songs that are known to lift heavy burdens/ If all of our troubles, to God we oughta bring." It looks clunky written down, but it's not at all when he croons the fuck out of the thing.
The fallout from the Shrine Concert itself was almost instant. The Caravans' pianist and arranger
James Cleveland
soon moved out to L.A. in order to create that big booming contemporary mass choir sound that's dominated gospel for much of the last 50 years. Bumps Blackwell had been fully blown away by the Shrine Concert; his immediate reaction to Cooke's performance was that he had to get him to play pop music. A few weeks after this show, Blackwell flew to New Orleans to cut the first Little Richard sides for Specialty. This helped to give him more cachet with the company. So, when he had time, Bumps followed Cooke around the country over the course of the next 18 months trying to convince him to go pop and record with him until he finally did. Cooke was enamored with the city, and moved there soon as well.
Other modern gospel songs are essentially new gospel numbers forged from older hymns with commentary about the hymn, but it's hard to top what Cooke does here with "Nearer." In the late '60s, after Claude Jeter had left the Swan Silvertones, they did something similar in a live recording: their own meta-hymn take on "Amazing Grace," with former Dixie Hummingbirds singer Paul Owens on lead. As the rest of the band sings a sweet and keyed-up version of that infamous hymn written by a slave trader during an Atlantic crossing, this song that's been called America's spiritual anthem, Owens also tells of how his mother would steal off on her own to sing this song.
There is a story in every song that we sing. Songs do have a feeling, and, thankfully, they are still known to lift heavy burdens.
Let's hear this transcendent one again, right now.