We lost one of the greats last week. It is with great sadness that we learned of the passing of Dr. G. Bernard Worrell, aka Bernie Worrell, aka the Wizard of Woo, following his battle with lung cancer.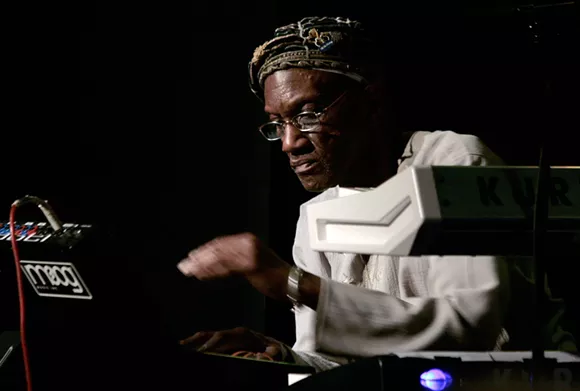 Photo by Manfred Werner via Wikipedia.
Bernie Worrell in concert in Vienna.
As announced on his official Facebook page: "AT 11:54, June 24, 2016, Bernie transitioned Home to The Great Spirit."
Worrell was a founding and extremely influential member of Parliament-Funkadelic, and served as its longtime musical director. It's safe to say there would be no P Funk as we know it without him. A classically trained piano prodigy, he provided a musical foundation for the group to build on, and co-wrote and co-produced many of their best known songs such as "Flashlight," "Aquaboogie," and "Atomic Dog," to name a few. He was also a pioneer of the synthesizer: he was able to do things with synths that no one had before, thanks both to his classical background and seemingly boundless creativity.
After his tenure in P Funk, Worrell also played an essential role in the
Speaking in Tongues
era Talking Heads, and appeared in their seminal concert film
Stop Making Sense.
In years since, he has played on countless records, and was recently awarded an honorary Doctor of Music degree from the New England Conservatory of Music, where he also studied before joining up with P Funk.
In April this year, Worrell reunited with Bootsy Collins, George Clinton and P Funk for a benefit concert to fund his cancer treatment. Here is the video of "Flashlight" at that reunion. We'll miss you Bernie.