Transformation Tuesdays! Today's edition is brought to you by none other than Southfield's prodigal son Mike Posner.
Sir Michael Robert Henrion released the visuals to a remix of his single "Be As You Are " over the weekend, and while it didn't freak everyone the fuck out like Yeezy's "Famous" or #TrumpGirlsBreakTheInternet, we here at the office found it very ... interesting.
For those of you who have forgotten about Mr. Posner's mediocre rise to fame, here's a refresher.
It didn't take place in the stereotypical NY, LA or ATL fashion, but what white R&B crooner ever follows the rules? No, Mike's path to success loomed in the greener(?) pastures of Durham, N.C., while finishing his degree at Duke University. His dorm-made music started picking up steam around campus via word of mouth. Throw in some hustle with frequent collaborator and Detroit native
Little
Big Sean, some YouTube magic, and a critically acclaimed debut mixtape hosted by legendary DJ Don Cannon, and the rest is history. I'm sure you've heard "Cooler Than Me" at some point in your life, whether you wanted to or not.
Posner's career post "Cooler Than Me" tailed off a bit, Justin Bieber was the new king of urban white male music, so the powers that be traded his varsity jacket and shaved head for slim fitting trench coats and cardigans.
They also took a cue from Brice Johnson and fucked up his hair
. Throw in guitar lessons, and transformation complete.
Hipster Mike Posner | YouTube screenshot
Posner's video for the original version of "Be As You Are," which was released in June of last year, depicts the singer walking in slow motion up a foggy mountain road reflecting on his rise to fame, his mom, and and also people stripping their clothes off and running into the ocean.
Watch it here.
And now, it seems Posner is the midst of a comeback — almost, dare we say it, like the dear city he claims whenever possible — and his new music sounds exactly how one whose last album tanked would sound like— all over the fucking place.
"I Took a Pill in Ibiza" seemed to indicate he was back on the track to the top — who doesn't love taking pills and making out with strangers? Smart move, Mikey, that business degree from Duke is a force to be reckoned with — it dominated the radio and was released right before the music festival season.
And what better way to follow up a single about drug filled orgies than with a single motivating people to tackle their fears and be all they can be? This "Be As You Are (JordanXL Remix)" is the perfect choice for a follow-up.
While the song lent itself well to the original video concept, the visuals for the remix are a real head scratcher. It begins with Posner waxing poetic like a Wale concert, but without the poetic talent or the melanin, and then all of sudden he's training some kid in the hood to be the best boxer he can be. And he's traded the beach for Detroit, which would explain his Eminem hair dye and white T-shirt. Shady 2.0 indeed.
Big Will Simmons | VEVO Screenshot
While dancer Big Will Simmons shines as the video's protagonist and the backdrop of the
Downtown Boxing Gym Youth Program
on the city's east side is a nice touch, Mike Posner's appearance in his own video felt contrived at best and exploitative at worst.
At 3:15 in the video, Posner's complete lack of self-awareness (or shitty acting) takes center stage. The singer sits on the steps of a dilapidated house seemingly reflecting on struggle and harsh times in the city and how to stay true to oneself, all while donning extremely fashionable loafers (and the Marshall Mathers hairdo). No sign of his cardigan and beard here, no sir.
At one point, the perpetual flip-flopper references Chris Tucker's infamous scene in Rush Hour, you know this one: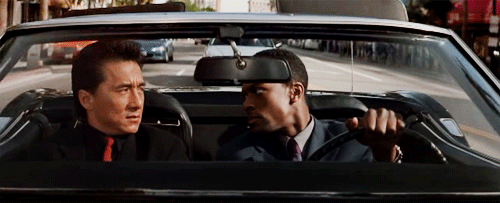 BUT HE SAYS CHRIS ROCK.
Really, no one caught that in post-edit? Were they too busy making sure they captured just the right amount of blight to make it gritty but not depressing? Or maybe everyone was focused on making sure Mike came off as an adorable big brother figure, inexplicably ringside during the big fight scene and then walking away smugly as if to say, "You're welcome for the advice. Another battle won thanks to a white guy who cares a lot."
Sure, Mr. Posner's mixtapes
Matter of Time
and
One Foot Out the Door
are classics in their own right, and he does seem like a young man in the midst of a (many times acknowledged) identity crisis. Plot Twist: maybe his chameleon ways are all part of some brilliant hate-inducing marketing plan (
he does have Tumblr dedicated to posting Hate Mail he receives
), and we're just a bunch of suckers.
While we don't enjoy dissing a 'hometown hero' (
OK, maybe we do a little bit
), especially someone who hasn't forgotten where he came from *cough cough, Madonna, cough cough, Floyd*, it seems, in many ways, that Posner has.
"'Be As You Are' is among the most honest songs I have written. I was just trying to tell the truth," Posner said in a press release.
Sounds like Mikey needs to stop taking pills and start taking a dose of his own medicine.