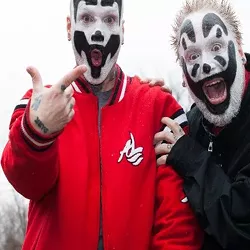 Coming fresh off the hype from their own music festival (the Gathering of the Juggalos, of course) Insane Clown Posse announced on
twitter
yesterday: "Remember to save the weekend of Sept 15-17, 2017 for the JUGGALO MARCH ON DC! We march on 9/16!" to protest their classification as a "gang" by the FBI.
Whether you belong to the Psychopathic Family (whoop whoop) or are simply a Juggalo sympathizer, you probably already know about the Posse's struggle to wipe the term from their reputation. It all started when in 2011, the FBI described the following of the rap-rock-duo, known as Juggalos, as a "
loosely organized hybrid gang.
" ICP later sued the US Justice Department to have the classification removed, but a
federal judge dismissed the suit
.
So, the duo have decided to "explain to the world who the [expletive] we really are." The due announced: "They call the Juggalo World a movement, right? Well, let's move!" So make sure your clown make up doesn't cover your hatchet kid tattoo as you prepare for the protest march on Washington DC next fall.
"THE REVOLUTION WILL BE CLOWNIFIED"