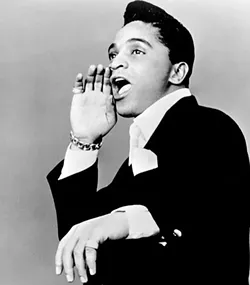 photo via Instagram: uDiscoverMusic
Highland Park has a big tribute planned for 50s and 60s soul singer Jackie Wilson. Nicknamed "Mr. Excitement", Wilson was known for his multi-octive range and impressive dance moves. The Jackie Wilson Foundation, run by his daughter Brenda Wilson, will rename Cottage Grove Street "Jackie Wilson Lane".
The city will hold a special renaming ceremony at 6pm on Saturday at WHPR- TV emceed by WPON's 20 Grand Revue host David Washington.
Wilson grew up in Detroit on Lyman and Kenilworth before his family moved to 248 Cottage Grove in Highland Park in 1943. He left Detroit to join the group Billy Ward & the Dominoes in the 50s. Known for hits such as "Lonely Teardrops" and "That's Why (I Love you So)", Wilson had over 50 hit singles in his solo career. His performance style influenced some of the greatest entertainers of all time such as Michael Jackson, Elvis Presley and James Brown.
Highland Park Mayor Hubert Yopp will speak at the ceremony. Wilson's children, Brenda Wilson, Sabrina Wilson, Anthony Wilson and Thor Lathan Kenneth will attend be in attendance along with U.S. Rep. John Conyers, Joe Billingslea from the Contours, and Mary Wilson of the Supremes, who will host the Rhythm & Blues Awards inductions at the Guido Theater in Dearborn the following night. After the new sign goes up, Brenda Wilson hopes to add a bench at the place where Wilson once lived.