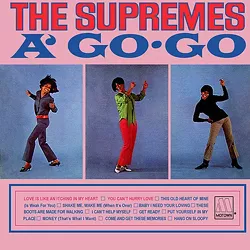 Motown record sleeve
A first not
Motown 50th anniversaries are falling like autumn leaves these days, and here's one of the happier ones to mark today: The release of
The Supremes A' Go-Go
on Aug. 25, 1966.
The album is full of those finger-snappers that, for anybody who grew up in Detroit, are like wallpaper: instantly recognizable and often unexamined.
It's the kind of thing that makes for a closer listen, if only to re-evaluate the album's handful of classic Holland-Dozier-Holland compositions, including "Love Is Like an Itching in My Heart," No. 1 single "You Can't Hurry Love," "I Can't Help Myself (Sugar Pie Honey Bunch)", and "Baby, I Need Your Loving."
Make no mistake, this album was more than a pop sensation, it was a cultural breakthrough in many ways. With instrumentation from the Funk Brothers and the Detroit Symphony Orchestra, production savvy from Lamont Dozier and Brian Holland, the trio of three gals who grew up in Detroit's Brewster-Douglass Projects on the Near East Side rode this album all the way to the top of the U.S. album charts, an achievement for an all-black band, and a first for an all-girl group. Congratulations, ladies!