While everyone was busy watching television last night, a couple hundred people were like "what debate?" and went to see
Angel Olsen
perform at The Loving Touch.
The performance sold out a week before the show, likely due to the increasing buzz surrounding her latest release
MY WOMAN
, which came out earlier this month. Many an indie music fan took to the event's Facebook page to beg for tickets (
and offer bribes that ranged from extra money to body parts
) and lament their procrastination. Sorry guys, sucks to suck.
All in all, the show was calm, cool, and sexy, there was a lot of swaying and surprisingly nary a cell phone. Ok, a few people had phones out, like this guy who got a great vid for the 'gram.
And a couple chicks who took like ten of the same selfie because fuck it what is life?
But in the age where most concerts look like
this
, even the show's opener singer/songwriter Rodrigo Amarante (you know, the guy that sings the theme song to
Narcos)
seemed to take note that the audience was
actually
paying attention, saying to the crowd midway through his set, "thank you very much for facing this way."
Angel Olsen and her five-piece band (WHO KILLED IT) performed for about an hour, which will now be summarized through a series of GIFs.
As she and her band quietly took the stage and everyone realized they (save for Olsen) were wearing matching powder blue suits with bolo ties.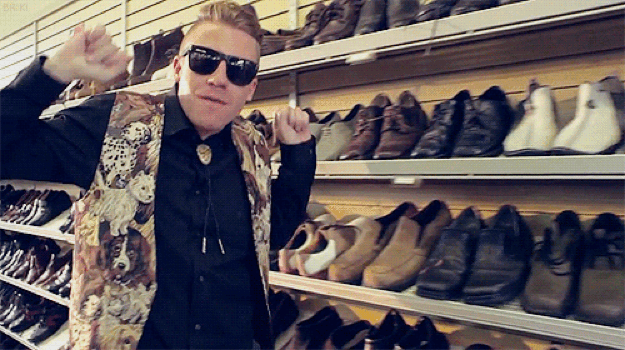 Then, she surprised everyone by playing her latest single "Shut Up Kiss Me" right in the beginning. Energy level: 100.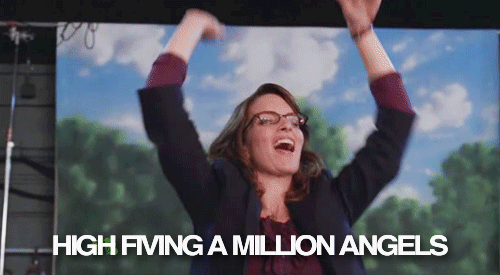 And even when she forgot the words, telling the crowd, "I forgot the words!", no one cared.
Because she has the voice of a goddess and we are not worthy.
And she just had us all IN.THE.ZONE.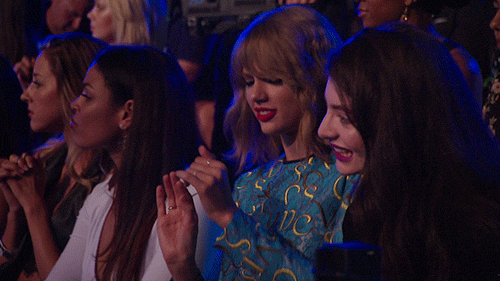 Especially when she stopped the show to blow her nose into a black bandana. Sigh, even her cold symptoms were hypnotic.
And everyone got into their feelings when she sang "Not Gonna Kill You." Yup, even all the dudes.


It was hard not to notice the backup vocalist was giving total 'Bassface' and we loved every second of it. Este who? (JK Este, luh you 4eva.)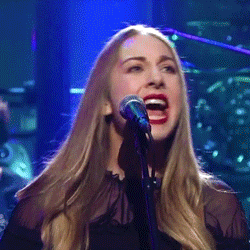 And watching the band interact with one another gave us all the feels.


Olsen closed out the show with an ethereal performance of "Intern," the song she describes as her "fucking with people," and we were all in a trance.


The show ended as quietly as it began, and everyone walked away from the venue like THIS IS HOW YOU ADULT, CHILL-ASS CONCERT ON A MONDAY, IN BED BY MIDNIGHT FTW.
Patting themselves on the back for turning off and tuning out. Thanks for the vibes, Angel.