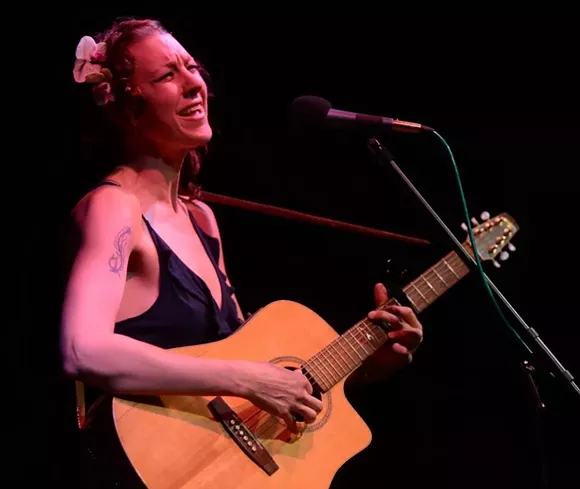 Friday, 10/7
Audra Kubat
@ Detroit Institute of Arts
This week's episode of the Friday Night Live series celebrates the release of Audra Kubat's new album Mended Vessel. The Detroit Music Award-winning singer-songwriter has already released a handful of albums to critical acclaim in a career that spans over 20 years. A composer, performer, and educator, Kubat's work has earned her a place in the community as a resource for empowerment through songwriting and music. In addition, Kubat hosts two songwriting workshops at the DIA on Saturday, Sept. 8, and on Sunday, Sept. 9. The songs generated from those and similar songwriting workshops (as well as local children's poems) will be presented in the Diego Rivera Court (check website for details).
Performances at 7 p.m. and 8:30 p.m.; 5200 woodward Ave., Detroit; dia.org; free with admission.
Friday, 10/7
King Wasiu Ayinde Marshal
@ Trinosophes
Nigeria's Fuji music legend King Wasiu Ayinde Marshal aka K1 De Ultimate was born Wasiu Ayinde Adewale Omogbolahan Anifowoshe 59 years ago in Agarawu, Lagos Island. The singer began his career in music soon after his father died, when K1 was 13 years old. His sound updates traditional styles with a dynamic, uptempo beat and modern instrumentation; he almost singlehandedly revived the music (dubbed the 'Talazo System' after his Talazo 84 album) and has been compared to pioneers like Bob Marley and Fela. This is a rare opportunity to see the singer.
Doors at 9 p.m.; 1464 Gratiot Ave., Detroit; trinosophes.com; Tickets $17 in advance, $20 at the door.
Friday, 10/7
Earthside, Leprous
@ Token Lounge
It's quite the double whammy for fans of prog metal when the New Haven-based Earthside team up with the Norwegian act Leprous. This show looks to be extra futuristic, though. "We make every effort with our music to give you all something unique and heartfelt that breaks from the norm," the band collectively states in a press release. The group collaborated with various vocalists for their latest album, and "to avoid compromising the stellar performances of Björn [Strid], Dan [Tompkins], Lajon [Witherspoon], and Eric [Zirlinger], we captured full-body video of their performances and infused them with intense visuals to create a powerful multimedia element that we project alongside each of these songs."
Doors at 7 p.m.; 28949 Joy Rd., Westland; 734-513-5030; $20.
Saturday, 10/8
Jonathan Toubin's Soul Clap
@ UFO Factory
Jonathan Toubin is one of the best DJs on the planet. The New Yorker-via-Texas is world famous for dusting off obscure 1950s and 1960s rock and soul 45s that you have no choice but to dance to. His Detroit appearance will include his infamous dance-off, where a panel of distinguished local judges will select a first-place winner of a $100 prize.These are seriously the most fun events, so if you're a stick-in-the-mud sourpuss, you might consider staying home this evening (or just getting over yourself already). People will be cutting the rug and doing the shrug — as well as the watusi, the shimmy, and the boomerang — at New York Night Train's Soul Clap party. Dress sharp and show up early; this will very well sell out.
Doors at 9 p.m.; 2110 Trumbull Ave., Detroit; ufofactory.com; $10.
Tuesday, 10/11
Squirrel Nut Zippers
@ Magic Bag
You know how everything from the 1990s is back again, and we are all supposed to reverentially celebrate the anniversaries of all albums that ever were released? Well when it comes to the 20th anniversary of the Squirrel Nut Zippers' most celebrated and commercially successful album, Hot, you don't have to necessarily bring your reverence so much as your finest pair of dancing shoes. For this tour, the core members have crafted a brand-new stage show with some of the hottest young New Orleans players and Ingrid Lucia of Flying Neutrinos fame.
Doors at 8 p.m. 22920 Woodward Ave., Ferndale; themagicbag.com; Tickets $30 in advance, $35 at the door.
Wednesday, 10/12
King
@ El Club
A handful of years ago, twins Paris and Amber Strother joined forces with "musical sister" Anita Bias to create the dream-pop trio King. Instantly feted by the likes of Erykah Badu, Solange, Nile Rodgers, and Prince, it's remarkable they're not headlining stadiums across the globe yet. Their smooth, eclectic, and intensely personal music is hypnotic and rad. Come see why every critic on Earth plus all your favorite artists themselves adore these future superstars.
Starts at 9 p.m.; 4114 West Vernor Hwy., Detroit; elclubdetroit.com; $15 in advance, $17 at the door.