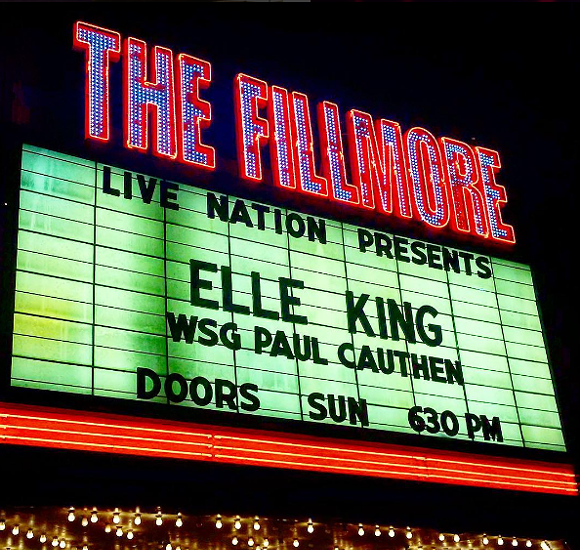 I cannot tell you how many times I heard Elle King utter out, "I LOVE YOU, DETROITTT" last night.
King's show at the Fillmore last night almost felt like an encore performance from her rousing show back in January that was at the Majestic Theatre. The hits from her 2015 debut
Love Stuff
were flowing, and so were the drinks.
King walked on the stage like the true badass she is with a red solo cup in hand and a bright blue wig on top of her head. Her band kicked into the first few chords of "Last Damn Night" and the crowd was already beginning to move and sway to the music.
It wasn't until after a few songs that Elle admitted to being a little tipsy. And by a little, I mean she was pretty hammered. In between songs, King would cheers the crowd, admit things like "eating too many weed cookies yesterday," and take hits off of what looked like some sort of weed vape pen. I was jealous of her life to say the least.
King's sound as transformed from a very bluesy-alternative to very alt-country. Her growl and twang always gave her that appeal, but songs like "Good To Be A Man" and "Where the Devil Don't Go" were more boot-stomping than usual.
A highlight of the show was when Elle donned a long white robe, invited a couple on the stage, and then literally officiated their wedding. Of all the things that could of happened on a Sunday night, the last thing I thought would happen was being a witness to a random couple's wedding, yet here I am. King ended the ceremony with a rendition of "Oh! Darling" that had the entire crowd in awe.
I'm not exactly sure why Elle King is touring so late in the year (considering it's been pretty long since her last album dropped) but I'm sure glad she decided to stop in Detroit. She kept the Halloween weekend in Detroit going well into Monday.