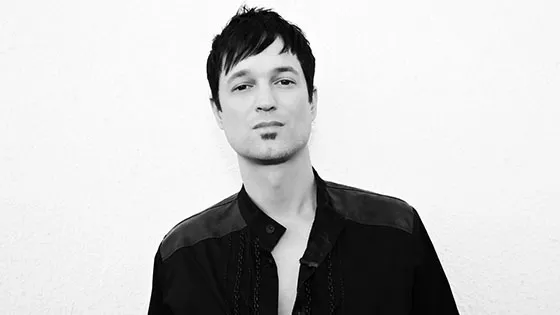 Jeffrey Adam Gutt. Photo from Wikipedia.
Another young person with sweet karaoke-type singing skills has been tapped to be the lead singer for an irrelevant, olden times rock 'n' roll band. This one even has a young family, and in the video embedded below you can watch his kid jump up on stage towards him after the handsome fellow belts his way through a song that's quickly overtaken Dolly Parton's song as sung by Whitney Houston in that
Bodyguard
movie to be the most maudlin thing anyone could ever sing, ever — the dearly-departed Leonard Cohen abomination, "Hallelujah."
Oh, and look,
as MLive reports
, this young person is named
Jeff Gutt
. Gutt was on a singing competition program called
X Factor
(runner-up in season three), and he originally hails from the Detroit area, where he led a nu-metal band called Dry Cell.
Go team! Michigan not only helped to provide sufficient electoral votes for Donald Trump to become the 45th president of the United States, but we've given fresh fuel and lots of press attention to a never remotely original band whose pop grunge-era music in 2016 is the equivalent of a dumpster fire in the back alley of an Arby's magically combining with toxic sludge to animate a half-eaten, rotten piece of processed horse flesh back to life —
in order to rock
!!!