New singles roundup:
Three local emcees drop bars for the start of the year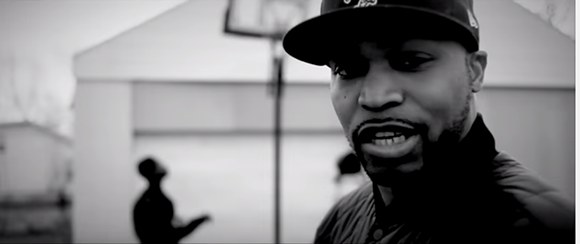 Video still of Ty Harris.

Ty Farris, "Product of My……."
Ty Farris has always infused his hood savvy into aggressive political rhymes. "Product"is no different. "How the fuck I survive this long/all the shit I did wrong/ living in my memories 6-mile and the hood gave me a certain type of energy/Mortal Kombat almost finished me," he raps. The bass heavy boom-bap track is produced by Trox and the entire album drops on January 30. In the words of Bart Scott, "Can't wait."
Cleveland Thrasher, "C-LEVEL-&"
It's been about five years since we heard from Cleveland Thrasher (who used to go by Mister Thrasher), and the time off has sharpened his flow. "C-LEVEL-&" is a trap beat but the lyrics are far from wack. "Give me that basket/Alright now/That's a closed casket/How tragic, we don't need to mask it/Like a back itch, gotta scratch this, mad quick/Land of the Free but we killing all the black kids," he raps. We'll keep you posted on the album drop date.
Nametag Alexander, "Survival Of The Fittest (Freestyle)"
Nothing is wrong with spiting over a classic beat that's been rapped over a thousand times, unless you fuck it up. Mob Deep's "Survival of the Fittest" instrumental is the beat, and thank God Nametag is on point here. "Show me love like a Wimbledon winner was playing to the tempo on this instrumental/ I'm advance/schools open, its time to give out the lesson plan ………Wait there's more … Now let me talk my shit/I made ESPN twice and I ain't talk my shit/I brought a candle lit fire flow and I'm on wick/shout-out to side-chicks who on WIC , you kind of thick, what up..."