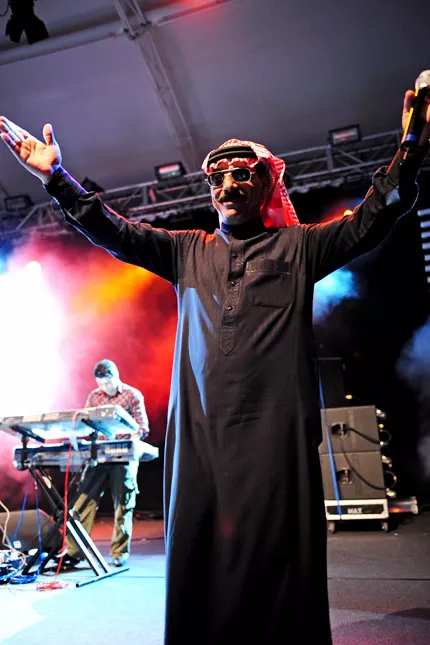 Omar Souleyman performing at Perth International Arts Festival in 2011. Photo from Wikipedia.
Tickets just went on sale for this awesome show at El Club on May 12
: The great dabke singer
Omar Souleyman
will play with Atlanta's provocative post-garage rockers
Black Lips
. Admission is $26. You do not want to miss this show.
Souleyman, an internationally beloved singer, hails from one of Syria's poorest regions, in the northeast region of the country. Souleyman began his career as a part-time wedding singer in his native al-Hasakah Governorate.
And while himself a Sunni Arab, Souleyman emphasizes the influence its culturally diverse milieu has had on his style: "My music is from the community I come from – the Kurdish, the Ashuris, the Arabic, they're all in this community," he
told the Guardian
. "Even Turkish because it's so near, it's just across the border. And even Iraqi."
The Black Lips are so high energy, and their crowds are even higher energy than the friggin band is (just don't get too close to Cole; you might get spit at, hah). See you there; get that ticket soon, though.
Also, check out this awesome poster: