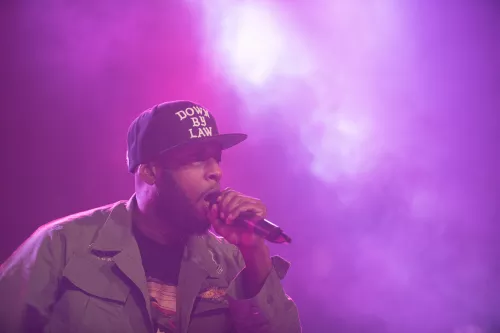 Talib Kweli. Photo by Kahn Santori Davison.
An epic five hours of hip-hop went down Saturday night in Detroit on February 4 at The Shelter (St. Andrew's for those unfamiliar).
The Detroit trio DopeDiv (acronym for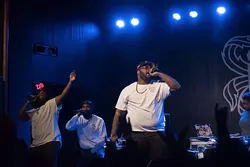 DopeDiv. Photo by Kahn Santori Davison.
Defeating Other People's Expectations) opened up around 9 p.m. with a high octane 30-minute set. The group is made up of Freshmen, Ali Keys, and Jru Nukem. They bounced, cracked jokes, pulled out instrumentals from "The Benjamins" and Snoop Dog's "What's My Name" and preformed cuts off their November-released mixtape,
Office Hours
.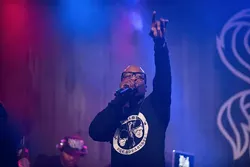 Almighty Dreadknaughtz. Photo by Kahn Santori Davison.
Next up was Detroit's longest preforming rap group, The Almighty Dreadnaughtz (Supa Emcee, Guilty Simpson, Konphlict, Kawshuz, Alius Pnukkle, O1, Kutty Mack, DJ Los). Konphlict and songstress Blue Rasperry (from the Wu Tang Clan) opened up the set with "Stormy Weather," and Supa Emcee killed it with "You Ain't Really Down." Cuts "AD Skelton Crew," "Walk Tha Plank," "The Real Hip-Hop," and "Sicker Than Your Average" were also performed. The Almighty Drednaughtz reinforced their legendary status. They've been preforming since 1986 and brought the energy of emcees half their age to the mic.
Chicago native K'Valentine held down the three spot with a very inspired and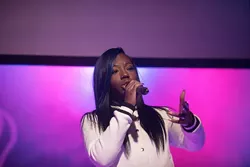 K'Valentine. Photo by Kahn Santori Davison.
lyrically entertaining set. Valentine signed with Talib Kweli's Javotti Media in 2014 and has been growing her brand steadily. She has three mix tapes under her belt (
Million Dollar Baby, Breakfast at Tiffany's
and
K'Valentine's Day
) and performed several cuts off all three over a 40-minute set including her newest single, "That's Real." The crowd took to the beautiful emcee immediately, even though many weren't familiar with her music. She was vulgar, she was sassy, she was witty, and she was dope. Several times during her set, the music would lower (or stop altogether) and Valentine would rap a capella, highlighting her wordplay and lyrically prowess. K'Valentine has the bars to go along with the looks and sexually explicit content (aspiring lady emcees should take note).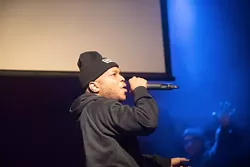 Styles P. Photo by Kahn Santori Davison.
Next up was Lox member and Bad Boy records alum Styles P. In terms of overall fun. nobody had more fun that Styles P that night. Dressed in Puma from head-to-toe, he performed his guest verses from other projects and cuts off his 12 album catalog (including his verse on Akon's "Locked Up" in which he humorously mumbled rapped Akon's part). But the highlight of his set was the 42 year-old rapper going into the crowd singing the chorus off Luniz 1995 hit, "I Got 5 On It," while smoking a blunt. That bridged into his own 2007 hit, "I Get High," in which the instrumental broke into Dr. Dre's "Xxplosive" beat for 16 bars. Styles did the entire song in the crowd, climbed back on the stage at the end, and exhaled enough marijuana smoke to fill up a hot-air balloon.
Talbi Kweli was the headliner and performed a 90-minute set that was polished better than your grandma's antique silver. He glided effortlessly through his albums "Gravitas," "Prisoner of Conscious," "Gutter Rainbows," and "The Beautiful Struggle." He brought K'Valentine back out, he brought out Detroiter and poet Jessica Care More (who always good for some black girl magic), he incorporated reggae, and killed his verse off of Kayne West "Get Em High," and brought out Brazilian born emcee Niko Is (also signed to Javoti Media).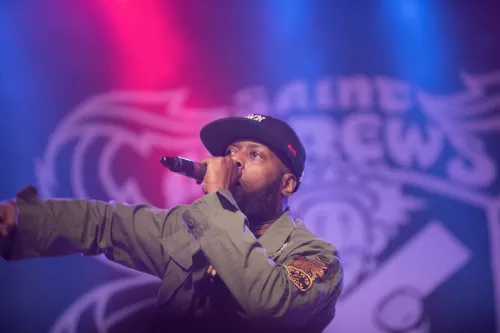 Talbi Kweli. Photo by Kahn Santori Davison.
He finished the night by bringing Styles P back on stage for their newest cut, "Last Ones." He went back in time and did some cuts of his 1998 collab, Black Star album and performed his mega hit "Get By." The night didn't' end until close to 1:30 a.m., and some patrons didn't stay for the entire show. But in an era in which fans complain about artists performing five songs and leaving, you have to give major props for Talib giving his fans exactly what they paid to see.