If you watched the Grammys last night, you probably noticed Beyoncé slaying the game, Adele winning every award, and Rihanna taking shots out of a flask because she doesn't give a fuck.
What you probably missed, though was Southfield-born and Grammy-nominated Mike Posner channeling Jared Leto's Joker character. His hair was slime green, his nails were pink, and the internet had some thoughts on his well-being.
And then came his interview on the red carpet with Giuliana Rancic which was all kinds of awkward.
Posner walked the carpet with hip hop artist and collaborator Blackbear. Once they got to the interview with Rancic, Posner answered all of Rancic's questions by telling them to Blackbear, and then he responded. It can all be summed up with this GIF.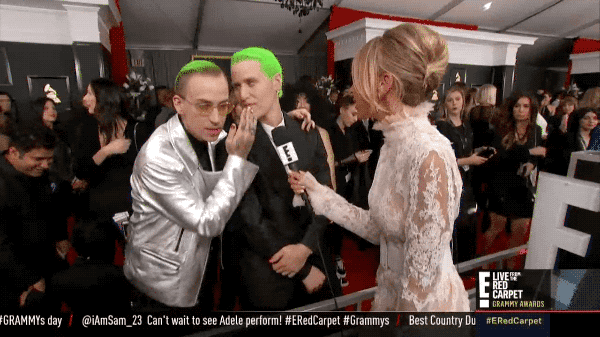 Again, Twiter was very confused with what was going on.
And some even wondered if Mike Posner took that same pill that he took in Ibiza.
Oh, and then this happened, too.
All we have to say to Posner is this: