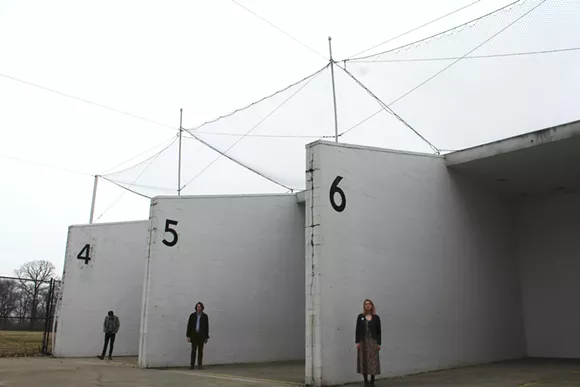 Deadbeat Beat. Courtesy photo.
Though they
shared it with Noisey
first, Deadbeat Beat sent over this killer new track recorded by Jeff Else at his studio in Alden Park, and mastered by Gordon Smith along with a reminder about upcoming dates at UFO and then opening for GBV. We're happy to share it with you in case you've not heard it yet.
We sent along some thought-provoking questions to Maria, Zak, and Alex, and they replied as follows.
Metro Times
: Five things in Detroit you are excited about, now?
Deadbeat Beat
: Detroit's really beautiful in the summer, and this summer, we can't wait to take the Q-Line to see Kid Rock at Little Caesars Arena, and then get all hopped up on craft cocktails in Corktown and have to crash at the Shinola Hotel.
MT
: Four reasons you cannot wait to go on this tour?
Deadbeat Beat
:We're excited to see friends, play outside Michigan for the first time in too long, spend Easter in a record store with cool bands, and go to the MoMA when we're in NYC.
MT
: Three songs you are obsessed with:
Deadbeat Beat:"Sure Thing" by the Dream Syndicate, "Mad" by Solange, "Saxophone Song" by Kate Bush.
MT
: Two turtle doves (sorry, that doesn't even qualify as a 'Dad joke') and one thing that makes you so mad you cannot even think?
Deadbeat Beat
: Obvious reality of icky 2017 politics aside, the death of the Goodwell's pocket sandwich still hurts.
Tell your friends to go see this band; they absolutely rule. Oh, you have a few chances to see them here, as well:
Thu. April 13th - Detroit, MI @ UFO Factory w/ Anna Burch & don't
Fri. April 14th - Chicago, IL @ Cole's w/ The Sueves
Sat. April 15th - Fort Wayne, IN @ The Brass Rail
Sun. April 16th - Columbus, OH @ Used Kids Records (early show)
Mon. April 17th - Rochester, NY @ Monty's Krown
Tue. April 18th - Brooklyn, NY @ Union Pool w/ Sunwatchers
Thu. April 20th - Brooklyn, NY @ Shea Stadium
Sat. April 22nd - Philadelphia , PA @ Creep Records
Sun. April 23rd - Cleveland, OH @ Now That's Class (early show)
Sat. April 29th - Grand Rapids, MI @ Pyramid Scheme w/ Guided By Voices
Fri. May 5th - Detroit, MI @ Magic Stick w/ Guided By Voices