The Sounds of Brazil fused with a Detroit Jazz Backline
by Larry King
DATE
: Thursday, March 30th
WHERE
: The Garden Theater, 3929 Woodward Ave, Midtown Detroit, MI 48201
TIME
: Show starts at 8 p.m.
COST IN ADVANCE
: Table seating – $30, General Admission – $20.
COST AT DOOR
: Table seating – $35, General Admission – $25
PURCHASE TICKETS
:
seanblackman.com/live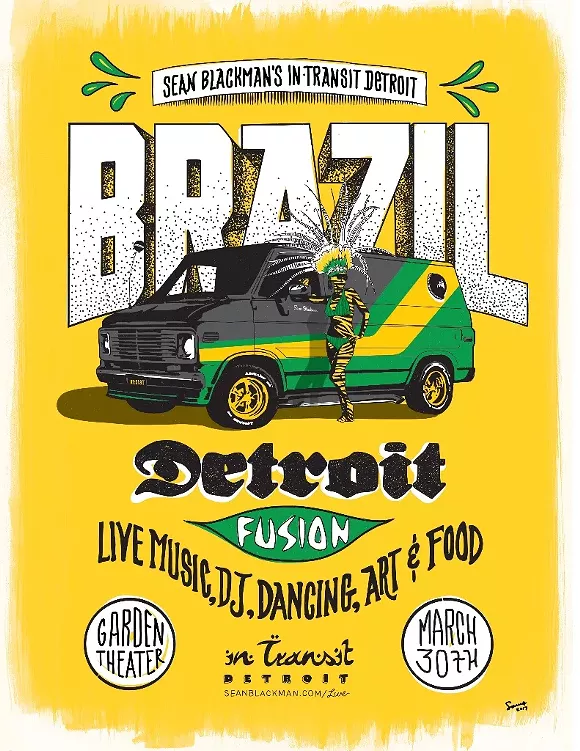 This Thursday at the Garden Theater, the second installment of Sean Blackman's annual world music "In Transit" concert series will feature the music, dance and food of Brazil. The doors open at 7 p.m., but in place of the usual pre-performance doldrums, attendees will enter a theater transformed into a Brazilian shopping bazaar of paintings, jewelry and other artisan pieces. Brazilian inspired cuisine will be available for purchase while willing concert goers can warm up with free Samba & Capoeira lessons.
Blackman brings real life experience to this event having lived in Brazil during his years a global music traveler. According to him, "There's nothing quite like the music being performed on the streets of Bahia, Brazil. I'm excited to invite Nanny Assis and other artists together to recreate that energy here in Detroit." As with previous In Transit concerts, Blackman will allow the Brazilian musicians to present their country's music intertwined with selections fusing with the best of Detroit's renowned jazz and funk artists. The cross-cultural approach makes the shows accessible to general audiences while still satisfying the audiences who are native of the featured country. "It's all set in the spirit and celebration of our diverse Detroit and how we can shine a light on inclusion through the performing arts."
The show will focus on the traditional root sounds as well as the rhythms of today's Brazilian music. By collaborating with the best musicians of the genre, Blackman promises a passionate and invigorating vibe. Although there is ample seating on both sides, the center space will be dedicated to those who chose to move. This music is built around dance, and as with past concerts there will be a mix of beginners and experts doing the Samba before, during and after the performance.
Heralded musicologist and radio maven Judy Adams says, "Sean Blackman's "In Transit" series is one of the most ambitious Detroit projects, other than the longstanding "Concert of Colors" designed to expose audiences to music from many cultures. Hi vision is reflective of his generous nature towards the Detroit's diverse music community which he has been championing for years."