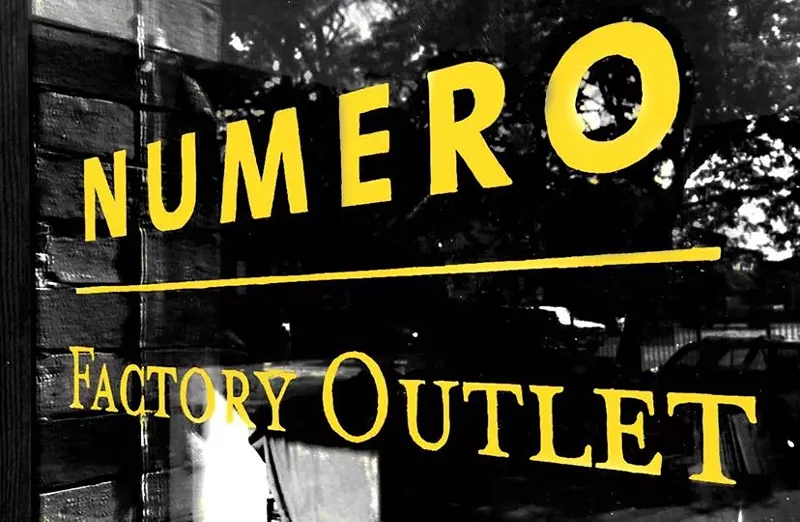 With their instantly recognizable design and completist approach, Chicago's infamous collector-fronted record label
Numero Group
has enchanted the public for almost a decade and a half, now. From their own
recontextualizations of otherwise neglected
music from the past to their
recent discovery
of both indie-rock from the 1980s and '90s and synthesizer-driven
New Age music
, there is something for everyone within their vast, sleek library of sound.
Tomorrow (Saturday, April 14),
Numero Group hosts a very special pop-up event
at Third Man Cass Corridor. It all kicks off at 10 a.m., with three 45s available for sale which were pressed in quantities of 200 at the Third Man Pressing Plant just for this occasion.
The exclusive records are:
ES-061 LaVice & Company "Thoughs Were The Days" b/w "Yes I Do"
ES-062 Burnette Sisters: Teen Age Widow
NUM712 Flying Wedge "I Can't Believe" b/w "Come To My Casbah"
These are only available tomorrow, at the store.
Metro Times
spoke with label head Ken Shipley about their "Numero Factory Outlet Detroit."
Metro Times
: What can fans expect from your pop-up store appearance in Detroit?
Ken
Shipley
: Thousands of reasonably priced LPs, CDs, 45s, and more from our massive catalog.
MT
: How is the label doing these days? The climate for vinyl based reissues has changed a bit since you all first got going, no?
Shipley
: Numero has changed quite a bit since our inception nearly 15 years ago. Whereas the sales of physical goods were extremely important to us in our formative years, the market has changed as a result of the majors finally realizing the value of their catalogs, and have squeezed a lot of the more esoteric product out of shops. Our digital and licensing revenues are in near-parity with our physical goods, a trend we expect to continue. In five years, we expect that the word "reissue" won't have a lot of meaning, as 95 percent of the history of recorded music will be available at your fingers.
MT
: Will any of you all be DJing or bringing along musicians to perform live — anything like that?
Shipley
: We're going to have a few DJs throughout the day, but their presence will primarily be ambient.
MT
: Do you have plans to have your own store in Chicago?
Shipley
: We actually opened our own
Factory Outlet
last July, following a string of successful pop up stores the last few years. The Roadshow is a natural extension of the Outlet, as we continue to look for new ways to connect with our fans.
MT
: Why did you all choose to partner with Third Man?
Shipley
:
Ben Blackwell
has been a friend for many years. Our labels are definitely part of a mutual admiration society. When we found out they were opening a store (and pressing plant) we began brainstorming ways to work together. The
Wonka-esque nature of Third Man
lends itself well to Numero's rule-breaking approach to making records.
MT
: Please tell us about these 45s that you're reissuing just for the event.
Shipley
: It being in Detroit, at a pressing plant no less, we wanted to make a few items that celebrated the city. We've been buying up catalog in Detroit for years, some of it finding its way back to the market (Otis G. Johnson, Shirley Ann Lee,
Downriver Revival
, The Big Mack Label) and some of it languishing on the shelf. We asked Ben which titles he'd like to see, and then went about making these micro-editons. They're all limited to 200 copies, and once they're gone, that's it.
MT
: One of the releases was originally a Dave Hamilton production, correct? What interests you about his work?
Shipley
: Dave Hamilton was the engineer, but that's mostly a happy accident. Ace has covered his work very extensively, but it's nice to know there's still a few recordings squirreled away for people to discover.
MT
: What's the thinking behind only pressing such a limited number of these things?
Shipley
: In the beginning, all records were regional. Sold from the back of a car, or a hair salon, or from the stage … there's something really intriguing about creating an item that can only be found in one place for a short amount of time. The music will all live digitally, in perpetuity, so it's not like no one will be able to hear them.
MT
: Obviously you all have released some great music from this area in the past — any future plans you can say in that realm? Or any stories about working with Detroit based artists before?
Shipley
: There's a lot of small things we've gotten into in recent years that's finally starting to see the light of day. Judi & the Affections, the Devotion Music catalog (Devotions, Brown Bombers, Al Hudson), Cu-Wu records, Brothers of Soul … all these things are in various stages of development. We've got enough records to keep us busy for the next half decade, but we're always searching for new catalogs.
MT
: I'm grateful you
reissued the Otis Johnson LP
; any stories you can tell us about him?
Shipley
: I think the mystery behind Otis's record is half of the intrigue. The less said about him, the more fascinating he becomes.