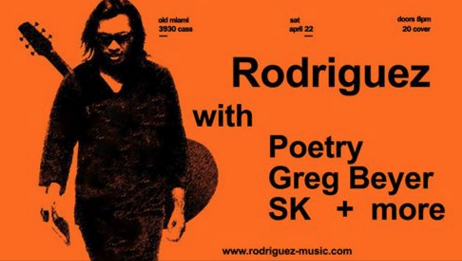 By now, almost everybody knows the astonishing story of Sixto Rodriguez. For years, he was considered just another unassuming neighborhood guy in the Cass Corridor. Sure, he had cut some records back in the 1960s, but now he was just a regular guy in the city. Of course, little did he know he had become a musical legend overseas in South Africa, where his lyrics resonated with the counterculture. That is, up until several years ago, when fans finally found him. The story is told in the moving film
Searching for Sugar Man
.
Suddenly catapulted into the superstardom he didn't know about, Rodriguez is now touring the world, performing on five continents, especially before awed audiences in South Africa, where fans are thrilled to see their cult musical hero in the flesh. His newfound fame has landed him on PBS, CNN, and the
Late Show with David Letterman
. He's even run for mayor of Detroit.
In fact, these days, it's sort of a challenge to see Rodriguez in the sort of intimate setting he might have played in a decade ago. You can see him at 8 p.m. this Saturday, April 22, at Pontiac's Crofoot Ballroom, for instance ($30 in advance, $35 day of), but afterward, you'll have the chance to see him in a much different environment, smack in the middle of the neighborhood that was his sanctuary. A cavalcade of entertainment kicks off at the Old Miami at 11 p.m., featuring poetry and music, but culminating in a performance from Sixto himself, fresh from the Crofoot stage. It should be

Sixto Rodriguez's performance at the Old Miami takes place Saturday, April 22, at 3930 Cass Ave., Detroit; 313-831-3830; doors at 8 p.m.; $20, first-come, first-served.