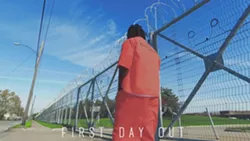 Still from the video to 'First Day Out.'
Detroit's breakout hip-hop star Tee Grizzley may have been left off the famed XXL "Freshman Cover List" of 2017, but I bet none of those other emcees can claim LeBron James as a fan.
Here we have footage of LeBron James dancing about in his gym as LeBron raps the hit single, "First Day Out."
Who would ever have guessed that Detroit hip-hop would play a key role in consoling the best player in the world after he took another L in the finals?