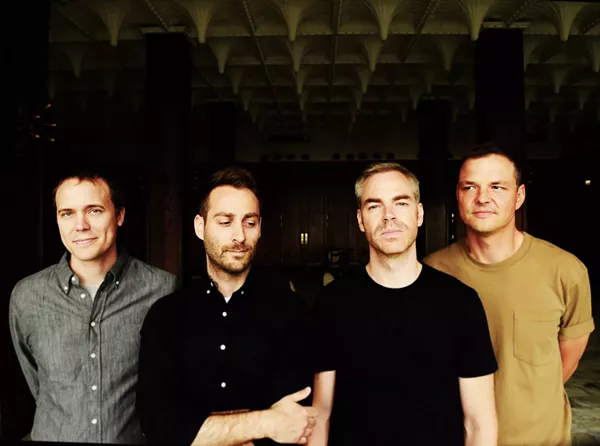 Photo via American Football Facebook
After 17 years devoid of the sound of the '90s Chicago-based emo-rock band American Football, the band released a sophomore self-titled LP in 2016. This summer they're going on a small tour, stopping in Detroit on Saturday, July 15.
The three original members of American Football — Mike Kinsella (guitarist and singer), Steve Holmes (guitar), and Steve Lamos (drummer and trumpet player) — never anticipated that their 1999 debut LP, also self-titled, would become one of the most influential and timeless rock albums to date.
Starting around the mid-late '90s in Champaign-Urbana, Chicago, the trio was playing music just to do something other than studying for their undergraduate degrees.
"T
here is nothing more important about going to college, whether you go away or whether you commute, than trying to make the best of it," Lamos says by phone. "Getting together with like-minded people and just doing stuff. You don't have to have any particular end goal in mind. We were all in the same place, we loved to do this thing and we had no particular agenda other than, 'Oh, this is a great way to past time,' and we tried to do it to the best of our ability and then 20 years later here we are being rewarded for this."




After American Football's breakup just three years after starting, the band became a huge influence in the math-rock and emo scene in the early 2000s. They eventually gained a cult following, which later led to them playing unexpected, sold-out shows in 2014-15 during a reunion tour accompanied by Kinsella's cousin, Nate, on bass.
Lamos confessed that when the band first started, there were no expectations in sight — no end goal, no plan, nothing. "
I mean we broke up literally as we were (making) the record and decided we weren't going to play again and I kind of regret it a little bit, that we never got a chance to play anything," he says. "So, the first — the very first — time we did it as a reunion was this 'surprise' thing in Chicago. That was an interesting experience because I thought, 'Well, geez, we did it,' ya know? But, because I had no expectation it's made the rest of this a lot more fun."


He says the continued reception has continued to surprise him.

"We just finished up nine or ten dates overseas and I think in some ways it's still a mystery when we go to someplace like Osaka, Japan and a bunch of people show up, or we'd play in Milan or somewhere like that, and people have heard this stuff ya know?" he says. "Whether they've heard the first one or the second one or both. It doesn't get old."

After the reunion tour, the band decided to write and put out a second album that still holds the twinkly and emotional feel of 1999 American Football, but includes nostalgic lyrics and reflections on past emotions that influence the band members lives today, as adults.


"I don't think it could be more different," Lamos says. "When we made the first album we were all in college, we were all living within a few blocks of each other," he says. "Our getting together and making noise was just part of our daily, weekly life."

For the latest album, Lamos says everyone is in different places. "Mike and Steve still live in the Chicago area, but Nate's in New York City, and I'm out here in Denver," he says. "There was a lot more exchanging of MP3 files and sort of a 'Here's an idea,' kick that to somebody else, and using technologies that we have to kind of get things moving."


The title of the new album, colloquially referred to LP2, is simple and straight to the point just like
their first release. "I think it was part of the joke," Lamos says. "We didn't bother to name the first one, really. And, there's a band that we really all like called Sunny Day Real Estate and I think they did kind of the same thing, so we're just joking on that. I think it's even made it harder to find."

The recent LP begins with the most appropriate song titled "Where Are We Now?" And after 17 years, each member ended up on their own path. Lamos jokes, "
I've been kicked out of every band in Champaign between '99 and 2005, but I kept trying to do that." He's currently an English professor at the University of Colorado, Boulder. Kinsella went on to do his solo project, Owen, and Holmes got married and started a family.

Each member of the band has at least one child. "I don't think any of the kids think, 'Oh, what dad is doing is cool,'" Lamos says. "I think they think it's just a weird thing their parents do."


How much longer will the band last? For now, Lamos says the band is just enjoying the recognition. "I think when that gets old we should be done because I think if we ever get to expect this or get accustomed to it then the mystery will be gone, and it will be time to do something else," Lamos says. "But, I can't imagine that for any of us it would ever really come to that point. It's a gift to be able to experience this, so we appreciate it."
While the band's revival has been a humbling experience, Lamos is quick to point out it's not a strategy that could necessarily be reproduced. "I wouldn't recommend that most bands break up," he says. "It's a weird thing and it hasn't happened to any of us in any other context, nor will it happen again."

When asked to a word of advice to younger bands out there, Lamos admits he is completely unqualified to do so given the circumstance of American Football. But he still gives it a shot.

"Try to do something meaningful because you love it and you don't know where it's going to take you," he says. "Be sincere about it and I think if you are, other people will pick up on it, no matter what it is."

American Football plays at the Majestic Theater, Saturday, July 15. Tickets are $27.50; Doors are at 7 p.m; all ages.