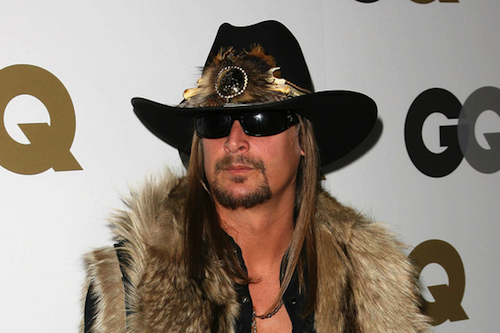 Shutterstock
Could be your next Senator.
We found out earlier this week that the Donald Trump effect has made its way to Kid Rock, aka Bob Ritchie, who thinks he has what it takes to beat Michigan Senator Debbie Stabenow for her seat in next year's elections. Obviously, the internet went wild with boo's and hiss's from the people of Michigan, and most of the country for that matter. It seems that no one wants Ritchie to run for Senate except Ritchie himself.
While many people speculated Ritchie's word on the deal, the Michigan-native and "Made in Detroit" enthusiast (Ritchie wasn't actually "Made in Detroit," FYI) has responded to doubters that he absolutely intends to run for office.
We got a little suspicious of Kid Rock's intentions when we saw a "Buy Now" tab on his campaign site. Is Kid Rock trying to sell something else besides his love for 'Merica?
Well folks, we think he is. Kid Rock revealed this little video today, announcing "The Greatest Show on Earth," which made me literally laugh out loud and then scream in horror at what that could mean. Is this just a tour? Or is "the show" going to be him campaigning across Michigan? Also, how the fuck did we get here?
It does seem that some sort of musical tour is going on, since Kid Rock released a new single called "Po-Dunk" (lol) and just highlights all the bullshit you think of when Kid Rock comes to mind: blonde women in bikinis, giant guns shooting bullets into the woods, farm animals, and imagery of the Confederacy, er, northern Macomb County, I guess.
Kid Rock posted a
message on his website
yesterday saying that "the media" is wrong and he really is running for office, and that Senator Stabenow is in a run for her money, because he is a "voice for tax paying, hardworking AMERICANS and letting politicians like her know that We the People are sick and tired of their bullshit!"
So apparently in Kid Rock's eyes, the rest of aren't hardworking not paying taxes, and not Americans at all.
After news broke the Kid Rock was running for office, Debbie Stabenow has this to say on Twitter: