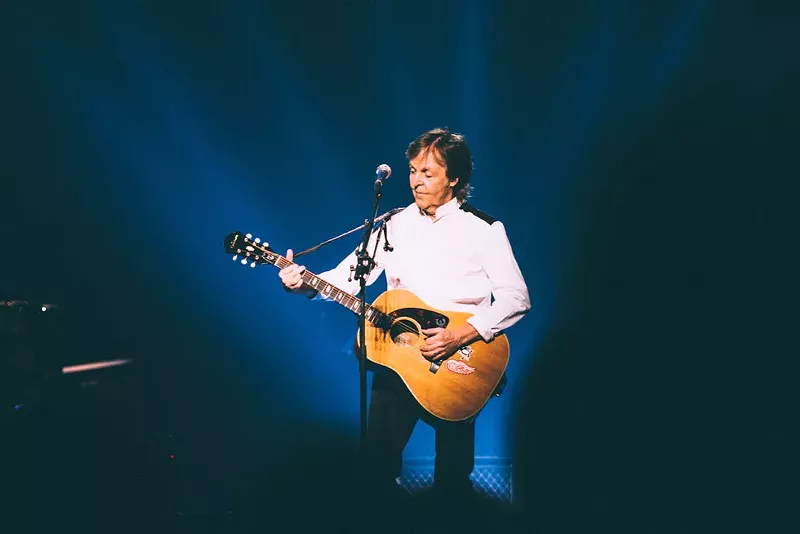 Paul is NOT dead. And neither are we. On Sunday night 75-year old legend Paul McCartney took to the stage at Little Ceasars Arena and delivered a warm retrospective that, for over two and a half hours, transported us both forward and back, filling dark gaps with hope and light. Last night Sir Paul McCartney gave us a ticket to an unforgettable ride.
A magical mashup of eras and career-defining leaps, McCartney promised early on to present a diverse mix of "old, very old, and new" and he did not disappoint — including everything from 2015's Rihanna and Kanye West collaboration "FourFiveSeconds" to Wings hits "Let Me Roll it" and "Band on The Run" to the Quarrymen/pre-Beatles days with the song that started it all, "In Spite of All the Danger."
Of course, McCartney left no Beatles stones unturned, either, from "Love Me Do" (dedicated last night to late Beatles producer George Martin) to heart-wrenching anthems "Hey Jude" and "Let it Be." The curation of a career as wide spanning as McCartney's is surely a daunting task, but fun novelty tracks like "Ob-La-Di, Ob-La-Da" were carefully scattered in more somber moments such as the Beatles "A Day in the Life," which bled into a haunting anthemic version of John Lennon's "Give Peace a Chance" — which prompted a stadium-wide peace-sign wave that felt as needed and relevant as when Lennon debuted it in 1969.
In true raconteur fashion, McCartney's storytelling took center stage several times throughout the evening, including intimate details surrounding that time they gave the Rolling Stones their first hit, "I Wanna Be Your Man," while guitar shopping in New York City in the summer of '63 and admitting that he can still hear the nerves in his vocals on the first track he ever recorded with the Beatles.
This dizzying anthology was brought to life by McCartney's remarkably dexterous and vibrant band, featuring Ryan Anderson, Paul Wickens, Brian Wey, and Abe Laboriel Jr., all of whom brought a 60-year long career to life with an assertive and beautifully re-imagined energy. However, quite possibly the most definitive moment in the 175-minute performance came from a quiet moment with an unexpected guest star — a Gibson ukulele gifted to McCartney from the late George Harrison.
"I was around his house one afternoon and we were jamming on ukuleles," McCartney said. "I said to him, 'I learned one of your songs, you know?' And we played it that day and we'd like to play it for you now." The song, of course was "Something" from The Beatles 1969 record
Abbey Road,
and it was here that we forget the weathered and tender strain of 75-year old McCartney's voice. This was, however, one of many intimate moments (no matter how many audiences have heard these very anecdotes over the years) that made 20,000 seats feel like 200, and at the same time making the night feel larger than life.
It seems appropriate here to quote my father — the man who bought me my first Beatles cassette when I was too young to recite the alphabet but knew that I loved the "yellow submarine song" — who encapsulated the weight of such an experience in a phone call before last nights performance.
"It isn't every day that you witness a founding father of music that brought a generation together by separating them from their parents and governments, indirectly granting permission to discover their own own set of values," he said. "The Beatles defined us, all of us."