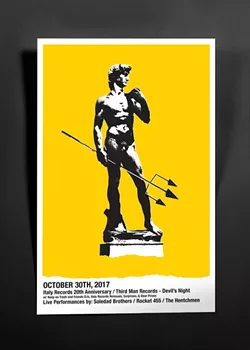 While some prefer to keep the partying to strictly Halloween night, the folks at Third Man Records in the Cass Corridor are getting the party started early with a bash on Devil's Night — the night before Halloween.
The party is also a celebration of the 20th anniversary of Italy Records, the Detroit record label that released The White Stripes' first two 7''s, among other Detroit garage rock acts from the late 1990s like The Feels and Rocket 455.
The fun will begin at 7:30 p.m. with some DJs and of course food and drinks for you to try. Throughout the night Italy Records artists like Soledad Brothers, Rocket 455, and The Hentchmen.
Third Man Records also wants to make sure you know that you better dress up in a Halloween costume if you plan to attend.
Tickets to this bangin' party are only $15 and you can get them
here on the internet
OR in-store at the Third Man Records shop in the Cass Corridor.
Party on, y'all.