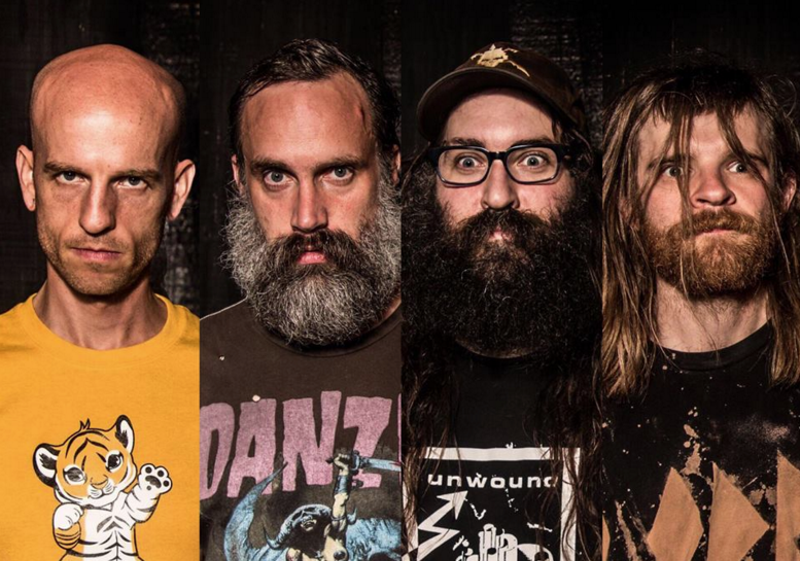 Courtesy Child Bite Facebook page
Detroit noise punks Child Bite never seem to rest. They're either on tour or putting out a rad record or promoting some touring friends' local show. Vocalist Shawn Knight and his wife, Veronica, also founded and continue to run
Berserker
, an annual festival of strange and heavy music that grows every year.
Last month the band released a new split 12-inch with Minneapolis' STNNNG — another of the Midwest's best weird "punk" bands of the last dozen or so years. It's a really well-matched split that was many years in the, "Hey, we should do that!" phase that also turned out to be the last release for STNNNG, as well as Child Bite guitarist Brandon Sczomak's and drummer Jeff Kraus' successful tenure with the band.
Child Bite's songs were recorded at the home studio of Limp Bizkit guitarist and Detroit resident Wes Borland. Standout track "The Will to Disappear" pairs a seasick slide guitar riff with great big, syncopated rhythms and wild man gang vocals, like a long-awaited, mutated sequel to The Jesus Lizard's "Nub." It rules.
Today the band also starts on a week's worth of dates with noise-rock veterans Unsane, including a stop at the Loving Touch on Friday.
We talked with Knight about the new split, how he spends his very brief downtime, and the "how?" and "what?" of working with Borland. He even humored (er, bullshitted) our silliest question on working with rap-rock royalty.
Metro Times:
What should we know about this new split with STNNNG?
Shawn Knight:
We've been buds with STNNNG since our first time playing together nearly 11 years ago. We would hook them up with shows in Detroit, and vice versa when we traveled to Minneapolis. We also played a handful of random shows together in random cities. Like-minded rockers that don't fit in anywhere.
MT:
Where is Wes' studio and how was it working with him?
Knight:
We knew that Wes had a home studio 'cause our buddies Golden Torso are talking about recording with him for their next record. I kinda swooped in and stole that idea right away, approaching Wes to record these two songs. He had seen us live and was into it. Working together was awesome, actually; he was super fast and all of the sounds we came up with are great. He also made some great suggestions regarding edits and overdubs. Talented dude!
MT:
Did he wear colored contacts?
Knight:
Yes! Black and white contacts, I believe. He was also dressed up like a giant disco ball, which looked awesome but made it impossible for him to sit at the mixing console. Luckily we cranked the tunes out before he started to cramp up.
MT:
How has the transition to the latest phase of the band been?
Knight:
Well, I'd say we are still in transition. Jeff and Brandon checked out after our European tour, so we had our friends Jeremy (Waun) and Ben (Moore) fill in for the fall tours. Our final show with the old guys happened, and five days later we went on tour with the new guys. So, on one hand the transition was quick and seamless, but on the other hand the future lineup is still unknown.
MT:
Are you still looking for permanent replacements for Brandon and Jeff, then? Should local shredders apply?
Knight:
We are into permanent replacements if it feels right. (Bassist) Sean (Clancy) and I want Jeremy to stay on full-time, but we haven't asked him yet. Maybe he'll read this and let us know. As for drummers, I'm not sure if either of the fellas doing these end-of-2017 tours would be able to commit, so we might keep that slot loose for a while. We've done plenty of tours in the past, and even a few recordings with fill-in guys, so we know how to stay afloat regardless of line-up completion.
MT:
How are you spending your downtime between tours?
Knight:
I've got a new music project in the works, as well as art projects for various bands. I'm definitely hoping to spend a lot more time illustrating and collaging this winter. My day job is freelance graphic design at an ad agency here in Detroit. Not bad. In between it all, my wife and I binge the hell out of Netflix and rip through PS4 games. Ya know, regular non-kid-having activities for middle-aged couples.
MT:
What's the story on this new music project of yours?
Knight:
It's a bit more of a metal thing, kind of industrial I guess, too. I'm writing all of the music and then talking a bunch of talented friends into recording those parts for me. This year has been so busy with tours that I haven't accomplished as much as I'd like. I think I'll have an album good to go by end of winter, though.
MT:
Will there be a Berserker V next year, and if so, what can you say about it at this point?

Knight:
We still aren't sure. We've been talking with the Crofoot here and there, and as soon as we can all get on the same page, I think there's a good chance that another Berserker will happen at some point in 2018.
Child Bite opens for Unsane on Friday, Dec. 15, at the Loving Touch, 22634 Woodward Ave., Ferndale; doors open at 8 p.m.; with Big Brave; tickets are $12-$15.