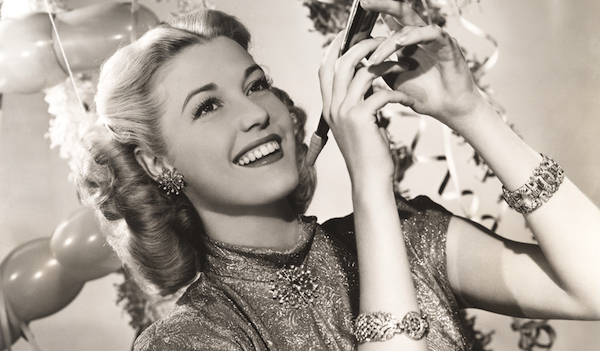 OK, we lied. These aren't the best. They're just a handful of pretty darn good party songs for New Year's Eve, and for Detroiters, as well. Please fill up the comments section with your own favorites, which are doubtless way cooler than these choices, with the exception of the ones by Kid Rock or Ted Nugent. In no particular order:
In the summer of 1985,
you could hear the entire song by standing on the corner and letting listening as it came pouring out of every car radio. While the Rock Master Scott & the Dynamic Three weren't from Detroit,
"The Roof Is On Fire"
became practically a Detroit anthem. Chances are good that your party experience will be best hyped up by the
Grandmaster Flash version
, which frontloads the song with the anthemic chant and mixes up the scratching and old-school rap with a stronger beat.
Over-the-top punk vocalist,
zine guy, and
writer
Tesco Vee knows how to lay it on thick. So it goes with this party anthem dedicated to the guy with the house that's party central, with a novelty doorbell, big, mean security guards, video monitors in the bathroom stalls, and enough drugs, guns, and sex to back up the statement, "Sodom and Gomorrah got nothing on what's doing in my crib."
Devo has so many other,
much better songs, and you can feel free to reject this one and vvv instead
an obvious hit
or
a better deep cut
, but the reference to Dr. Detroit that makes this song a hometown hit. (Even though the movie is set in Chicago and is dreadful.)
Country Bob & the Bloodfarmers
were doing hick horror hops back in the 1980s, where they were among the first to mix country, gore, and toe-tapping beats. Sometimes, their "music" was just a cover of
Roger Miller's "Dang Me."
In other cases, it was the melody of Delaney & Bonnie's
"Never Ending Love for You"
with the lyrics changed into a ditty about keeping a bowl of fresh noses for year-round snacking.
Classic, must-include song
that will have everybody on the dance floor in short order. Two great things that are even better sung about together.
Another classic
sure to get people out there popping that thing on the dance floor.
Man, all these
Electric 6 songs are party anthems. So here are three of them to help make your badass party that much more rocking.
There's gotta be some Prince,
right? But "1999: would be too-on-the nose. And Raspberry Beret would be too sweet. Let's go with this Detroit-style number featuring a fast car and an even faster courtship.
The band is from New York,
not Detroit. But they wished they were. Look at all the makeup, the leather, the pretensions toward being mutant alien rockers, and you see a band that fought its way to the front lines of rock 'n' roll to contend with Detroit's rock scene, which put them over the top
at Cobo Hall in 1975
.
Hide the womenfolk
. It's Grand Funk Railroad, and they're about to get this party started, 1970s-style. That means faded denim, clouds of "incense," and so much big, bushy hair it went up in flames whenever anybody lit off a bomber. (And then somebody's mother would walk in and the gang would move off in another direction.)