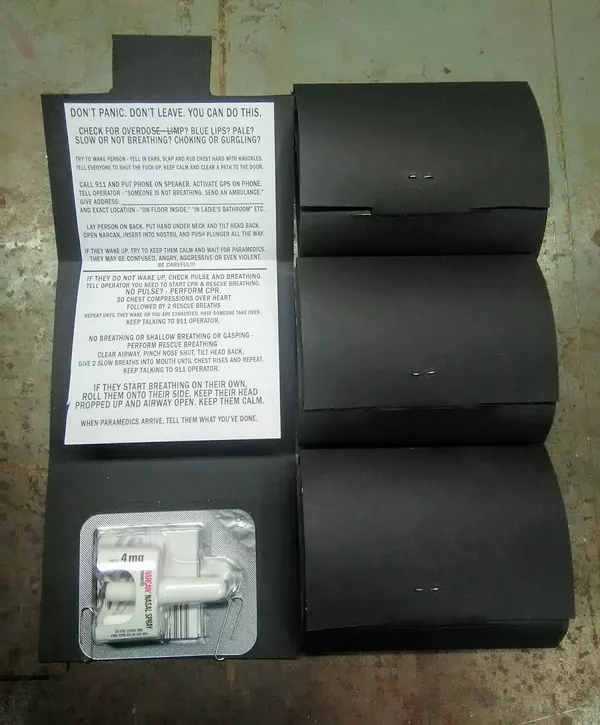 Sex. Drugs. Rock 'n' roll.
This has, no doubt, become a tagline for an entire culture. But, every day more and more stories emerge regarding the
surge of drug overdoses
and
opioid-related deaths
in America. Yet, the topic of prevention leaves many (even our
own President
) left without answers. One Mount Clemens rocker, however, is doing it the DIY way
— and with Narcan.
"Rock and roll and punk rock have always had tumultuous give-and-take when it comes to substance abuse," Scott Boyink, a local musician and activist, says. "The way we describe it in our own culture, I mean, look at the songs. Live fast, die young — and when people do that, we get upset," he says. "I had to start adapting the messaging to combat the problem."
Boyink's fundraising efforts started with a series of annual punk shows throughout Hamtramck with his band Steve Harvey Oswald, but he admits the effort is not enough. So, he's adding on to his ongoing efforts by offering DIY Narcan kits to all venues hosting acts for the 2018 Hamtramck Music Fest (March 1-4).
"We take the money from our shows and we put it towards something. These Narcan kits were the result of the effort I did Labor Day. It actually took me this long to get it going because I had to look into how this plays out under Good Samaritan laws. I'm giving a substance to a bar," Boyink explains. "I was trying to get it wholesale and the distributors where questioning my intentions. Like, I'm a guy in my basement with my dog. When they asked what I was going to do with it, I told them I'm giving it to Whiskey in the Jar and they were like, 'No.'"
Naloxone, also known as Narcan, is an emergency antidote to opioid overdoses. In 2017, 41 states made Narcan available without a prescription in CVS Pharmacy locations, and Walgreens offers it over the counter in 46 states. The nasal spray comes with two-units at about "$150 depending on where you go." The inhalant offers a temporary reversal of the overdose and can reverse the respiratory distress. More than reversal, it buys time.
"It's important to have paramedics on the way and to find a way to calm someone down," Boyink says. "I've heard cases where they've required up to seven or eight doses, but it buys time."
As of Sunday, Jan. 28, Boyink has been able to get Narcan kits to Painted Lady, New Dodge Lounge, Bumbo's, Whiskey in the Jar, Ghost Light, Trixie's, Small's, and Kelly's Bar. Each kit includes a detailed description of how to identify an overdose and how to administer the nasal spray. According to a Facebook update, Corktown and Ferndale venues are next on his list.
"I've lost a lot of people in the music scene. I just got fed up and people that are anti-authority and anti-establishment — they're the hardest ones to reach as far as getting them into a recovery position," Boyink says.
Although Narcan became widely available over the counter last year in wake of the staggering number of opioid overdoses, Boyink says most pharmacies he visited only had one or two doses in stock at any given time, making it hard to distribute large quantities without depleting their inventory.
"It could take them a week to get more if I buy what they have. Waiting for Walgreens to call and say they have two so I can buy one," he says.
Boyink's efforts are supported by the Michigan-based suicide prevention nonprofit
Six Feet Over
. Any donations made through Six Feet Over will contribute to the purchase and distribution of Narcan kits.
"My goal is to get one anywhere where musicians congregate," Boyink says, "If the venue has a soundboard, I want them to have Narcan. But it's going to take time."

Steve Harvey Oswald's Positive Approach EP and fundraising effort is available
here
. All proceeds will be donated to Six Feet Over.