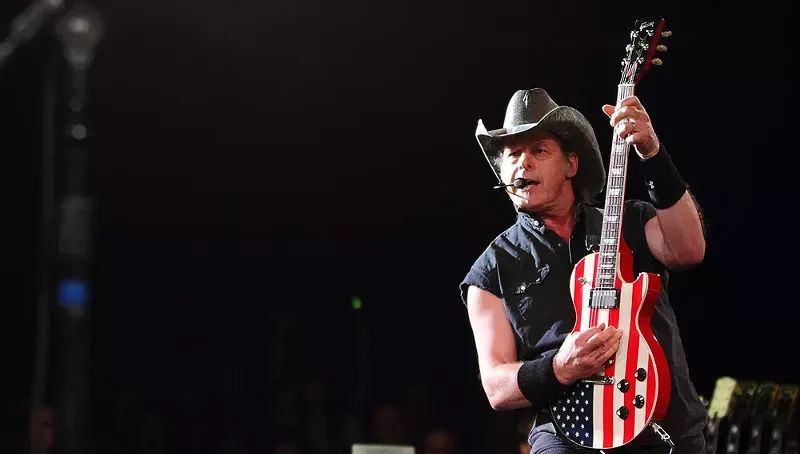 Doug James / Shutterstock.com
Shut the fuck up, Ted.
So much for that kinder, gentler Nuge we were promised.
As
reported
by
Media Matters
, the "Motor City Madman"
posted an article
on his Facebook page pushing a right-wing conspiracy theory alleging survivors of Florida's Parkland school massacre were "coached" actors.
The article, from
noted fake news purveyor
Natural News
, claimed the students "were coached to repeat scripted lines, just like actors reading lines for a movie production" in order "to push a gun control narrative rooted in emotional reaction rather than constructive solutions." Nugent later "liked" a comment left below the post article claiming that one of the students was "a paid crisis actor" who "has been at multiple shootings as a 'survivor.'"
As
Media Matters
points out, much of the article was lifted from another site,
The Gateway Pundit —
which even
InfoWars
has accused of being "fake news."
The Nuge, a National Rifle Association board member, has a long history of promoting right-wing conspiracy theories in the aftermath of gun violence. After the Sandy Hook massacre, Nugent wrote a column for
WorldNetDaily
falsely claiming
that no assault weapons were used in the elementary school shooting. After October's country music massacre in Las Vegas, Nugent appeared on
InfoWars
and claimed the massacre was "scripted by deep state Democrats."
Previously, the Nuge had made jokes about making President Barack Obama and Secretary Hillary Clinton "suck on" his machine gun. But in June, 2017, after a gunman shot at Republican Congressmen in Alexandria, Nugent
told
New York radio show
Curtis & Eboni
that he was promising to cool it with his fiery rhetoric.
"At the tender age of 69, my wife has convinced me that I just can't use those harsh terms," Nugent said. "I cannot, and I will not, and I encourage even my friends-slash-enemies on the left in the Democrat and liberal world that we have got to be civil to each other."
He added, "I'm going to take a deep breath and I am going to back it down, and if it gets fiery, if it gets hateful, I'm going away. I'm not going to engage in that kind of hateful rhetoric anymore."
Perhaps remembering his pledge to be nicer, Nugent later removed the Parkland post from his page.
Stay on top of Detroit news and views. Sign up for our weekly issue newsletter delivered each Wednesday.