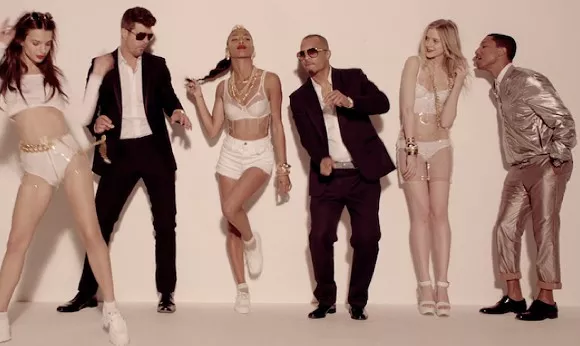 Screengrab
A still from the video for Robin Thicke's "Blurred Lines"?
Remember "Blurred Lines"? Just when we had nearly forgotten about Robin Thicke's once-ubiquitous 2013 hit, the controversial record made its way back into headlines on Wednesday at the end of a lengthy copyright lawsuit that ruled in favor of Marvin Gaye's estate.
The essence of the lawsuit, filed on behalf of Gaye's heirs in 2014 against Thicke and co-writer Pharrell Williams, is that "Blurred Lines" — with its funk cowbell beat — sounds very similar to Gaye's 1977 song "Got to Give it Up." In 2015, a Los Angeles jury ruled in favor of the Gaye heirs, forcing Thicke and Williams to pony up $5.3 million in damages and 50 percent of the song's future royalties.
Thicke and Williams filed an appeal in 2016, and on Wednesday a divided panel at the 9th Circuit Court of Appeals largely affirmed the trial court's original verdict.
However, Judge Jacqueline Nguyen offered a dissenting opinion, in which she warned the case could set a dangerous precedent for musicians who create works that are evocative or similar to other works. Previously,
more than 200 other artists
signed a letter in support of Thicke and Williams' appeal.
"The majority allows the Gayes to accomplish what no one has before: copyright a musical style," Nguyen wrote. "'Blurred Lines' and 'Got to Give It Up' are not objectively similar. They differ in melody, harmony, and rhythm. Yet by refusing to compare the two works, the majority establishes a dangerous precedent that strikes a devastating blow to future musicians and composers everywhere."
She also said the musical expert the Gayes brought into the trial "cherry-picked brief snippets of both songs to opine that a 'constellation' of individually unprotectable elements in both pieces of music made them substantially similar."
"That might be reasonable if the two constellations bore any resemblance. But Big and Little Dipper they are not," she wrote. "The only similarity between these 'constellations' is that they're both compositions of stars."
However, Circuit Judge Milan D. Smith Jr. offered a rebuttal.
"[T]he dissent prophesies that our decision will shake the foundations of copyright law, imperil the music industry, and stifle creativity," he wrote. "It even suggests that the Gayes' victory will come back to haunt them, as the Gayes' musical compositions may now be found to infringe any number of famous songs preceding them. Respectfully, these conjectures are unfounded hyperbole. Our decision does not grant license to copyright a musical style or 'groove.' Nor does it upset the balance Congress struck between the freedom of artistic expression, on the one hand, and copyright protection of the fruits of that expression, on the other hand. Rather, our decision hinges on settled procedural principles and the limited nature of our appellate review, dictated by the particular posture of this case and controlling copyright law. Far from heralding the end of musical creativity as we know it, our decision, even construed broadly, reads more accurately as a cautionary tale for future trial counsel wishing to maximize their odds of success."
You can
read more
about the verdict at the
Hollywood Reporter.
You can listen to "Blurred Lines" and "Got to Give it Up" below.
Stay on top of Detroit news and views. Sign up for our weekly issue newsletter delivered each Wednesday.