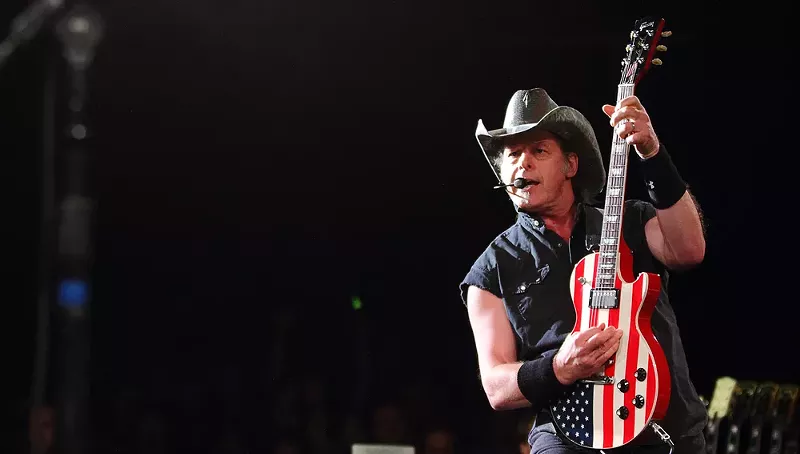 Doug James / Shutterstock.com
Shut the fuck up, Ted.
Right-wing wackadoodle Ted Nugent just can't stop saying right-wing wackadoodle shit.
On Friday, the Nuge appeared on the right-wing wackadoodle show
InfoWars
to issue an incoherent barb against, well, pretty much everyone. Here's Nugent's call for what sounds like an awful lot like an American jihad, per
Media Matters
:
Don't ask why. Just know that evil, dishonesty, and scam artists have always been around and that right now they're liberal, they're Democrat, they're RINOs, they're Hollywood, they're fake news, they're media, they're academia, and they're half of our government, at least. So come to that realization. There are rabid coyotes running around. You don't wait till you see one to go get your gun. Keep your gun handy, and every time you see one, you shoot one.
Following the shooting of a Republican Congressman at a baseball game in Alexandria, Virginia, last year, Nugent
promised
he'd tone down his hallmark wackadoodle rhetoric. "At the tender age of 69, my wife has convinced me that I just can't use those harsh terms," he said, adding, "I encourage even my friends-slash-enemies on the left in the Democrat and liberal world that we have got to be civil to each other."
Well, so much for that.
Since then, Nugent, a board member of the NRA, called Parkland massacre survivor-turned-gun control activist David Hogg, a child whose classmates were murdered, a "liar" who has "no soul" for criticizing Nugent's organization. Nugent is also gearing up for a tour which includes a Michigan stop at DTE Energy Music Theatre on July 20. Put it all together and it would appear that
Ted Nugent has no soul
.
Stay on top of Detroit news and views. Sign up for our weekly issue newsletter delivered each Wednesday.