Instagram, @stroxler
The line outside the Old Miami on Memorial Day.
For non-raving locals, it may be hard to imagine a three-hour-long line wrapped around the Cass Corridor block on which the Old Miami sits. The veteran's bar (Miami stands for "Missing in Action Michigan") is known by Detroiters as a low-key, no-frills hangout where you can kick back on a broken-in couch in a setting akin to your grandmother's living room. It is not a place people traditionally wait to enter.
And yet, the unassuming bar has for more than 10 years attracted hundreds, if not thousands, of people on Memorial Day, when DJ-producer Seth Troxler and label Visionquest host their annual Movement after-party, "Need I Say More." On a weekend in which Detroit plays host to dozens of electronic music parties with big-name lineups, "Need I Say More" had grown to be one of the most buzzed-about events regardless of who was playing, and each year the queue appeared to stretch further and further down West Alexandrine Street.
But in a move that has come as a devastating shock to festival goers, last week Troxler announced he had canceled the party at the height of its popularity.
"In the words of Don Shlitz, 'Know when to hold 'em, know when to fold 'em, know when to walk away, know when to run,'" Troxler wrote on
Instagram
.
"Thank you for the memories, as fondness never fades."
There's a reason people approached this party with the zeal of a teen hoping to ride Cedar Point's Top Thrill Dragster: It was equally as fun, and the fun lasted 12 hours.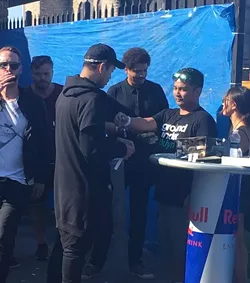 Facebook, Michael Marranzini
DJ-producer Seth Troxler works the door at the Old Miami.
It began every year at 7 a.m. with the sounds of heavy bass reverberating throughout an otherwise very still Corridor. Smart people would show up early, often having not slept, and set up a curbside picnic consisting of fruits, coffee, and energy drinks to help make the wait more tolerable. Once at the gates, partygoers would pay $10 (no pre-sale tickets for this event), in some cases, directly to Troxler — who, as a Michigan native and former Detroiter, seemed right at home.
The Old Miami backyard would be packed with people, with groups sitting on blankets and outdoor furniture along the perimeter of a hopping dance floor made of laminate wood laid down on grass. The music always seemed to be exactly right for the time and setting, as the industrial sounds of the night gave way to a more melodic mix of house, disco, and often recognizable hits from the likes of Prince. As the day wore on, the music would intensify, helping re-energize the, by then, pretty strung-out crowd. In the years before the party became insanely popular, the festivities would be punctuated by a Memorial Day tribute, during which veterans would take the stage with flags and a trumpet, and the DJs would pause to make room for "Taps."
The social dynamic of the party was as much of a draw as the music. Rave culture is often confined to loud, dark spaces where conversing or even identifying someone you know presents a challenge, and the party served as an opportunity to vibe out with friends and catch up with acquaintances. The people-watching was also on point, thanks in part to costumed partygoers and the jet-setters who, to Midwestern eyeballs, seemed to paint caricatures of their respective cities. There were the Brooklynites, clad head-to-toe in black, save for perhaps a pair of white tennis shoes. The Chicagoans looked a lot like the Brooklynites, though discerning eyes could peg them as being slightly less stylish. And there was the D.C. cohort, a diverse set that could best be picked out by a District flag or large scarf bearing the face of Condoleezza Rice (this item was waved in irony).
Focusing in on the crowd revealed stranger things. A friend swears he once witnessed a man talking into a banana as if it were a telephone for a good thirty minutes. There's photo evidence of a person laying with an inflatable doll in the "69" position while a costumed woman hand-fanned the duo. Once, we were approached by a jaw-jacking man seeking a tool with which to poke an additional hole in his belt loop, as he had lost so much weight during the course of the weekend that his pants kept falling down.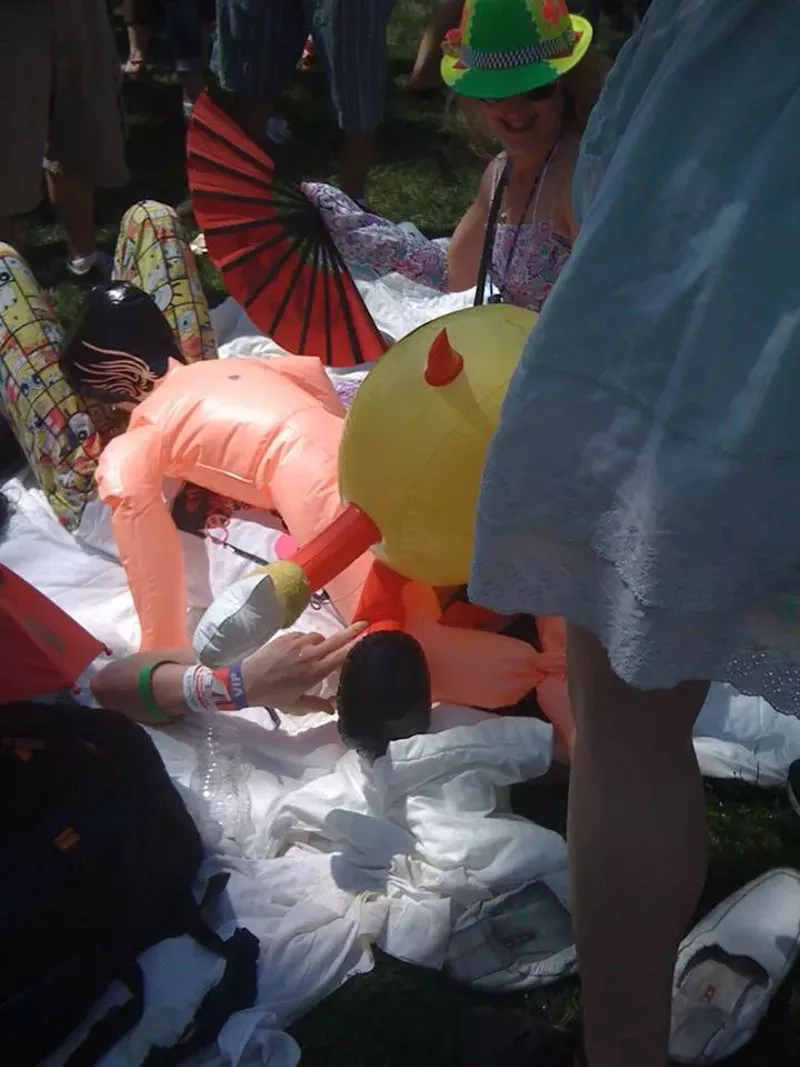 Facebook, Robert Major
A scene from the Old Miami 'Need I Say More Party'
We're not quite sure what brought the party to an end. In the Instagram post that formally closed the curtain on the years-long event, Troxler cited "reasons beyond the control of ourselves and the venue." He went on to say, "Times have changed, we have all changed. ... The city of Detroit has maybe taken the greatest leap of change. Something that we must welcome even in the pain of loss."
Many festival goers have called it the end of an era. Toxler, for his part, wrote something of a small eulogy for the event. You can see his full farewell in the post below.

Get our top picks for the best events in Detroit every Thursday morning. Sign up for our events newsletter.