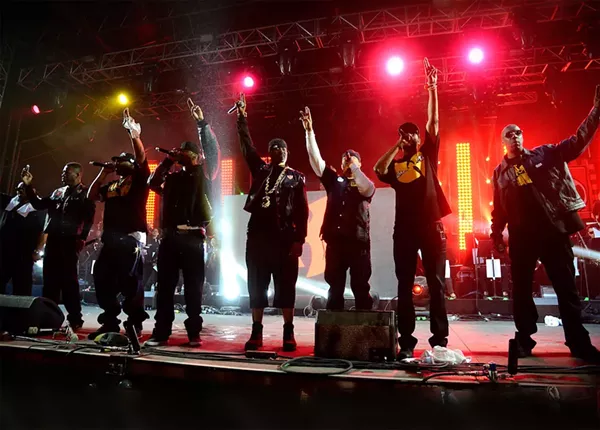 One of the most memorable years in hip-hop music history was 1993: Dr. Dre dropped his groundbreaking album
The Chronic
the year before, setting up Snoop Dogg to emerge as hip hop's biggest star with his release of
Doggy Style
. Other West Coast artists had their highest first-week album sales — including Ice Cube's
Lethal Injection
, Eazy-E's
It's On 187um Killa
, and Cypress Hill's
Black Sunday.
But in the midst of what seemed to be the summer of the West Coast taker, the East Coast's Wu-Tang Clan emerged and their
Enter the Wu-Tang (36 Chambers)
. The group, made up of 9 core members (RZA, Method Man, Ol' Dirty Bastard, Ghostface Killah, Raekwon, GZA, Masta Killa, Inspectah Deck, and U-God), built the biggest cult following hip-hop has ever seen, using martial arts inspired undertones, bottom-of-the-crate boom-bap samples, and distinct stage names and personalities.
Enter the Wu-Tang
went on to sell more than 2 million copies, and all surviving members of the group will celebrate the 25-year anniversary with a performance at this year's Detroit's Movement Music Festival on Monday, May 28.
"When you look at life in general, it doesn't feel like 25 years has went by. It's like one day its 1992 and now we're at 2018," says Masta Killa, holding down a phone line with Inspectah Deck and GZA, on a recent call with
Metro Times
.
Although the music industry has changed dramatically, Masta Killa feels the Wu-Tang Clan has stayed relevant by remaining unique. "The special thing about Wu is we've never really adapted to anything that was going on as far as industry standards," he says. "I mean, if you think about the first single, 'Protect Ya Neck,' there's no hook there. We're talking about a nine-member group — that's unheard of."
Because of side projects encompassing movies, sitcoms, books, collaborations, and other separate deals, it has been uncommon to see all nine members perform together.
"It used to be a rarity," says Inspectah Deck, "but in the last three to five years, it's been more common, because we understand the importance of what we're doing, and everybody is putting their futures in perspective. Wu-Tang is big — it's bigger than us. We started off as just a bunch of guys from the neighborhood; now it's around the world. It's about our legacy and what we mean to people."
"It's always special to have everyone on stage, but it's been rare to get everyone on stage since Day One. I mean, you never knew when Dirty was going to show up," Masta Killa says with a laugh.
All members have performed in Detroit before and are acquainted with the artists from Detroit. GZA recalls the "Rock the Bells" show in 2007, which featured a ton of bugs flying around on stage, and Inspectah Deck says a Wu-Tang performance at Chene Park less than a decade ago was one of their best shows. "I'm a J-Dilla fan No. 1. That might be my favorite dude. I also listen to Trick, I like Royce, and Obie Trice," Deck says.
"Detroit is a legendary place to be in general. Anytime you're able to bless the same city where the legendary Motown started. I know the struggle of the city and the highs and lows — but every city has that. But with the legendary status of Detroit, it's always an honor to perform and add to that legacy," says Masta Killa.
Inspectah Deck promises Monday's show will be one of their best. "I think they're going to be excited to see everyone together again. I think we're going to bring that same energy. We still sound good, still look good. I feel like this is the hip-hop version of the Avengers," he says.
"Just expect that same Wu energy; a bunch of bees buzzing around on stage," GZA says. "We don't actually rehearse when it comes to shows. But when we're on stage, that energy is always there."
Wu-Tang Clan performs at 10:30 p.m. on Monday, May 28, on the Movement Stage; 1 Hart Plaza, Detroit; movement.us; General admission for one day is $85; General admission tickets for the weekend are $195; VIP weekend tickets are $320.
Get our top picks for the best events in Detroit every Thursday morning. Sign up for our events newsletter.