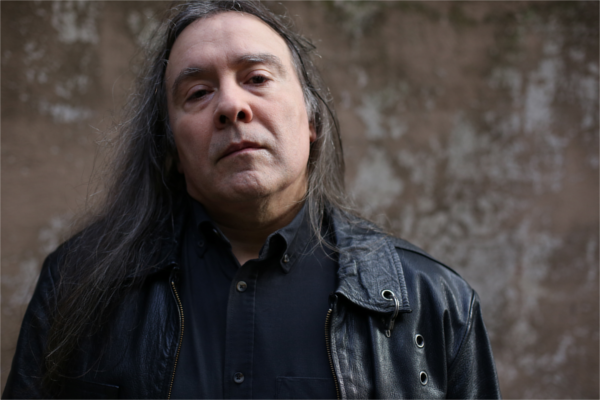 Photo courtesy Joan Hacker
Martin Bisi.
A New York music producer who played an early role in punk, rap, and indie music comes to Detroit this week. It's Martin Bisi, of B.C. Studios, who has lived and worked in a hulking building in Brooklyn's Gowanus neighborhood since the 1970s. Back then, it was the perfect setting for recording the fringe bands that came into the studio, a disinvested neighborhood with the fetid Gowanus Canal snaking through it. It's where Bisi has manned the decks for such performers as Brian Eno, Lydia Lunch, Cop Shoot Cop, Live Skull, Herbie Hancock, Afrika Bambaataa, Sonic Youth, Swans, John Zorn, Helmet, the Dresden Dolls, Boredoms, Foetus aka J.G. Thirlwell, and many more. He developed a talent for producing surreal- but live-sounding recordings.
The Gowanus neighborhood has a much higher profile today, having lost the smell of standing water, now featuring fitness clubs, a Whole Foods, and other earmarks of the gentrification that has swept the city. But even as he works in the same raw space, Bisi's profile has risen as well. He was the subject of a 2014 documentary entitled
Sound and Chaos: The Story of BC Studio
, and the studio stalwart has been touring with his own music for almost a decade. It blew a lot of people away that
a kid from New York's Upper East Side born to Argentinian parents helped lay the tracks for such seminal recordings
as Sonic Youth's
Evol
LP or Hancock's "Rockit." (As a
Vice Noisey
headline put it: "
Martin Bisi Probably Produced All Your Favorite Records
.")
He comes to Southwest Detroit's El Club July 1. We threw a few questions his way in advance of his gig there.
Metro Times:
A lot of people will probably be surprised you got your start at BC Studios with Brian Eno. Eno's influence seems airier and more rarefied.
Martin Bisi:
Brian Eno had this odd period, starting in 1977, when he did the
No New York compilation
, with several people I'd later work with, such as Arto Lindsay and Lydia Lunch, and going till just after he worked with me and Bill Laswell in 1981, helping us start the recording studio. The compilation defining no wave seems an antithesis of his better known aesthetic. No wave is dirty, sexual, sonically messy, spontaneous – as opposed to controlled, analyzed, asexual. You could say that the no wave phase had more in common with his Roxy Music glam phase. But what he did with me in 1981 was an ambient record. So at that time he was drifting into that mode we associate him with, of intellectual music art
MT:
Lots of those bands you've produced have in common a kind of darkness. Is that like the trademark of BC Studios?
Bisi:
The darkness of many of the BC Studio albums is something I took for granted. It just seemed natural for the environment, and seemed the obvious antithesis of mainstream culture. Counter-culture meant being dark – and it was also an antithesis of the '60s, which always loomed big. There was an often-stated goal of overturning that positivity. In my own personal music, I explored a more positive or cheery vibe. I did it just to balance myself mentally
MT:
You worked with so many fringe New York bands of the 1980s, I'm almost surprised you didn't work with Missing Foundation.
Bisi:
I really worked within well-outlined niches in New York City during the '80s and early '90s. I was quite aware that there were sub-scenes that just would not be coming to BC Studio. So Missing Foundation were unfortunately not in my flow. I think it's in part because i had a reputation of really crafting sound – some people said it sounded "elegant" – so that could seem like I was polishing the sound. Also, as I came from the Laswell-Material collective, there was a reputation of being "prog" and also doing world music. On the other hand, for the more brooding bands like Live Skull or Of A Mesh, that seemed fine. And jazz-laced political bands like Mofungo also were happy with that.
MT:
Maybe it's the Detroit chauvinist in me, but my first thought upon looking at the artists you worked with in the 1980s was, "Wow, that's back when bands used to come out of New York." Or is that an oversimplification? Does New York still produce subversive working-class bands? Or is it all rich kids who meet one another in college?
Bisi:
There's a lot of rich kids in New York. There's definitely a higher percentage within the 'out' bands. But it's not just that the 'native' New Yorkers are, and have always been a minority in the arts and music scenes. It's now that those that come from, Connecticut for instance, have more personal funding. But also, the music coming from people native to the outer boroughs is getting more interesting, more experimental. You're kinda seeing the old hardcore scene morphing into something more avant-garde – so not all is lost, amazingly, in NYC.
MT:
Ever been to Detroit before?
Bisi:
This will be maybe my fourth time playing in Detroit. I was fascinated by the so-called blight and urban abandonment the first time, even though I know it was difficult for many people. It's because it reminded of New York when I first started my Brooklyn studio in 1981. And it was those conditions that allowed me the freedom to flourish, and connect with lots of different kinds of music and people – the whole downtown-uptown of NYC then. On last few visits to Detroit, I was concerned that gentrification was looming and would soon erode that environment – but the allure still remains for me, as also historically Detroit seemed musically a place of extremes – more raw, more political, more fun even.
MT:
What are some of your favorite albums to come out of Detroit?
Bisi:
My top Detroit-ish albums would be:
Protomartyr:
The Agent Intellect
Adult.:
Anxiety Always
Funkadelic:
One Nation Under a Groove
Death:
… For the Whole World to See
MC5:
Kick Out the Jams
MT:
What's the deal with Crazy Doberman? Or do you know much about them?
Bisi:
Of Crazy Doberman, all I know is this - and it's all i can handle – they are: Drew Davis, Tim Gick, John Olson, Jason Filer, Paul Baldwin, Zeno Ben-Amotz, and Jordan Allen. I'm excited that it will likely be 'too much'. I'll feel right at home …
Martin Bisi takes the stage on a bill featuring Crazy Doberman and CJS, with the show starting at 8 p.m. Sunday, July 1, at El Club, 4114 W. Vernor Hwy., Detroit; 313-279-7382; $10-$12; all ages. A 35th anniversary record of BC Studios is out celebrating Bisi's work as well. Get our top picks for the best events in Detroit every Thursday morning. Sign up for our events newsletter.