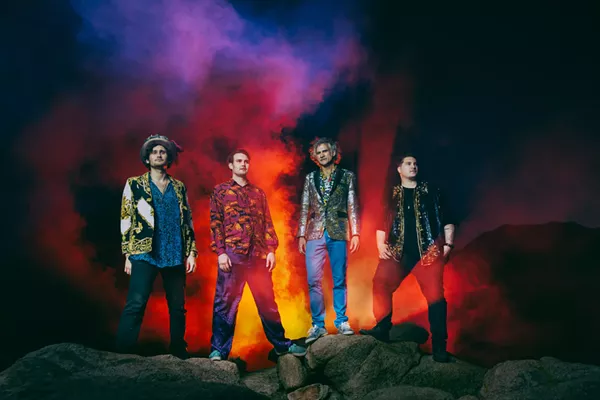 Galen Oakes
Desert Hearts crew heads to The Works on Saturday, Sept. 1
Born out of the dust of the Mojave Desert, the California-based Desert Hearts crew first started throwing renegade raves that sparked a movement of psychedelic-inspired parties. Because of the brand's familial vibe, Desert Hearts has managed to cultivate a robust and loyal following with their entrancing brand of house and techno. Their popularity
has
lead the crew to perform at major festivals throughout the U.S. in addition to hosting their own
Desert Hearts Festival
and City Hearts showcases across the country.
Before heading to
The Works this Saturday, Sept. 1 for a Desert Hearts Takeover,
we chatted with Mikey Lion for a playful lightning round of game-show inspired questions.
This or that?
Metro Times:
Warehouse rave or desert rave?
Mikey Lion:
Desert rave, duh!
MT:
City festival or destination festival?
Lion:
City Festival, they're way more community focused and every city gets to add their flavor.
MT:
House or techno?
Lion:
House.
MT:
Vinyl or digital?
Lion:
Digital. It's way easier on the wallet and easier to travel with.
MT:
DJ or produce originals?
Lion:
My true passion is DJing, so that will always come first. But there isn't a better feeling than DJing one of your own tracks and watching it destroy.
Would you rather?
MT:
Play only lounge tracks or never play a tech-house track again?
Lion:
Oh man! Even though it's by far my favorite genre, I would never play tech-house again. I can still make people dance with house and techno.
MT
: Always be covered in glitter or never wear color?
Lion:
Wow, you're really coming at me here! I'd unfortunately never wear color again. As soon as fashion fucks with my logistics I'm over it.
MT:
Perform only daytime sets or play only late-night sets?
Lion:
Daytime sets for sure. Nothing better than creating a vibe with the sun shining.
MT:
Never use USB's or never play records?
Lion:
Yeah right I'm answering that question with all the vinyl purists' pitchforks at the ready!
MT:
Only be able to listen to one album or never listen to one track more than once?
Lion:
Never listen to one track more than once, definitely. There's so much good music out there to be discovered and I'd be more mindful when listening to each song.
Lucky 5:
MT:
One song that reminds you of your childhood?

Lion:
Tom Petty's
"Free Fallin''
, my dad used to put that on whenever my siblings and I were crying and like clockwork, we'd forget what we were crying about and start singing.
MT:
One song that reminds you of your first heartbreak?
Lion:
The entire
Garden State soundtrack
.

MT:
One track that's a guaranteed floor burner?
Lion:
Mikey Lion, Sacha Robotti -
"Glide"

MT:
Favorite track to play during a sunrise set?
Lion:
Super Flu -
"Fibi Maybe"

MT:
Favorite track to play during a late night set?
Lion:
Andreas Henneberg -
"Bandala"


Desert Hearts Takeover with Mikey Lion, Lee Reynolds, Marbs, Rybo will perform at 10 p.m. on Saturday, Sept. 1; 1846 Michigan Ave., Detroit; ticketfly.com; Tickets are $20; 18+

Get our top picks for the best events in Detroit every Thursday morning. Sign up for our events newsletter.