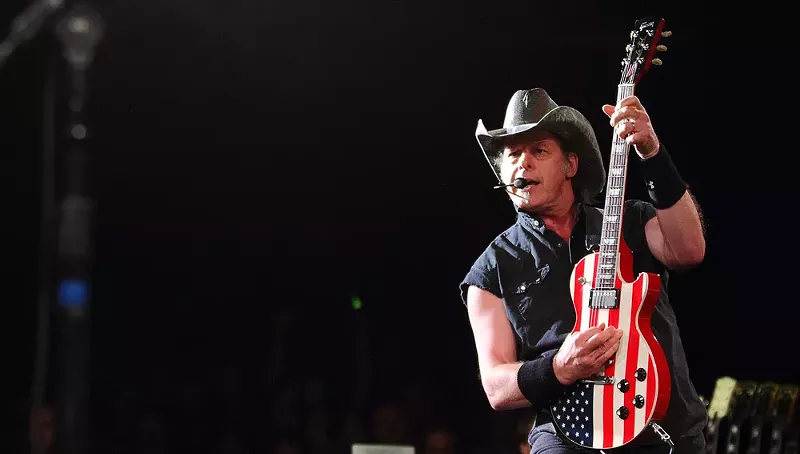 Doug James / Shutterstock.com
Shut the fuck up, Ted.
Motor City Madman Ted Nugent is many things: NRA board member, a big-game hunter, and a right-wing conspiracy theory-preaching nut job. But a pot smoker he is not.
During a taping of Michigan-based
WKAR's roundtable Off The Record
,
Nugent was asked by senior capitol correspondent Tim Skubick if he supported Prop. 2, which, if passed on Nov. 6, would legalize recreational marijuana in the state of Michigan. The rocker responded with a "hardcore" no.
"I have stepped over so many dead bodies who tried to convince me that smoking dope was a victimless crime," Nugent told Skubick.
He would go on to namedrop Jimi Hendrix, AC/DC's Bon Scott, and Keith Moon of the Who as individuals who had once offered him "dope and whiskey," of which Nugent claims to have declined.
"I was unhip because I wouldn't, I guess, drool and puke and then die," he said, adding that over the course of his shockingly sober life has witnessed brilliant minds become "mumbling, stumbling idiots most of which ended up dead because they were high."
"When you're high you cannot make a positive, meaningful, intelligent decision," he said.
This is alarming news because it means that every time the Nuge has said some violent, incendiary shit, he was apparently stone-cold sober. When he called the survivors of the Parkland school massacre
"mushy-brained children"
and accused them of being "coached actors?" Sober. When he penned a column for
WorldNetDaily
falsely claiming that no assault weapons were used in the Sandy Hook elementary school massacre, or when he stated the Las Vegas music festival shooting (the most deadly mass shooting in American history) was "scripted by deep state Democrats?" Sober. Those jokes about forcing former President Barack Obama and Secretary Hillary Clinton to "suck on" his machine gun? Sober.
Though Nugent's Off The Record interview could rank as one of his more stable rants (if judging only by the volume of his voice), he kept with his twisted tradition of saying super fucked up shit.

Other takeaways: He believes embattled Supreme Court nominee Brett Kavanaugh is a "great man," and that the "circus" surrounding his nomination is a "great manifestation of cultural deprivation." He refers to Islam as a "voodoo religion." He doesn't regret calling Senator Dianne Feinstein a "worthless whore," and instead of running for office himself he says his responsibility lies in "spotlighting cockroaches in a volatile political environment."

So yeah, positive, meaningful, intelligent decisions. Nightmarish rambling aside, Nugent did say he supports medical marijuana as a means to alleviate pain for those seeking relief. Considering marijuana has been proven to be successful in aiding in a laundry-list of ailments, forgive us for sparking up a fatty right now because Nuge — you're giving us a headache.
Stay on top of Detroit news and views. Sign up for our weekly issue newsletter delivered each Wednesday.