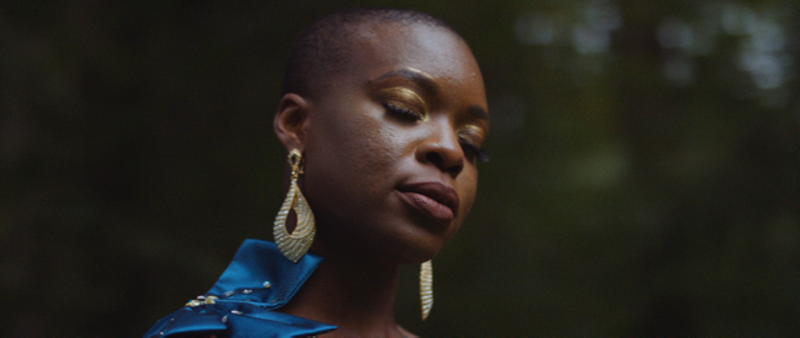 Detroit vocalist and artist Kesswa, born Kesiena Wanogho, preaches the power of creating your own destiny in her debut music video for "To Find." The video, directed by Kai Dowridge, is set in an enchanted forest and follows Kesswa on a journey to self-actualization. She is joined by a troupe of goddess-like women that represent the divine within oneself. The song reads not only like a meditation, but a promise to herself, saying "I will succeed."
Kesswa
says that the spiritual nature of the song and video is partially inspired by her background in Buddhism. "As a former Buddhist who used chanting of mantras to balance emotions and navigate coming of age, I wrote this song to call my long-held dream of being an artist who makes powerful and timeless works into my life," says
Kesswa
. "I've been wanting to sing my whole life, but I struggled to see it as a possibility because of generational ideas about success and internalized societal beliefs about what a successful singer looks and sounds like."
Kesswa's voice guides the song with a fluid strength, repeating the mantra "to find." Her crystal clear, full-bodied voice is paired with a deeper, distorted version of itself, giving off an echoed, transcendent effect.
"I feel like it reflects the depth and color of the artistic world/aesthetic that I live in, which I recently learned is called Afro-surrealism," Kesswa explains. Violinist Maraj Virtuoso and harpist Ahya Simone bring the song further into an ethereal realm with their twinkling, angelic melodies.
As the song begins to fade, the camera pans to an aerial view of the forest, then back to Kesswa walking towards her future. These last images suggest an invitation — as a suggestion that perhaps the divine is right in front of you and it's up to you to manifest your own dreams. And that's where you'll find
Kesswa
.
Get down to earth with Kesswa's "To Find" below.


Get our top picks for the best events in Detroit every Thursday morning. Sign up for our events newsletter.