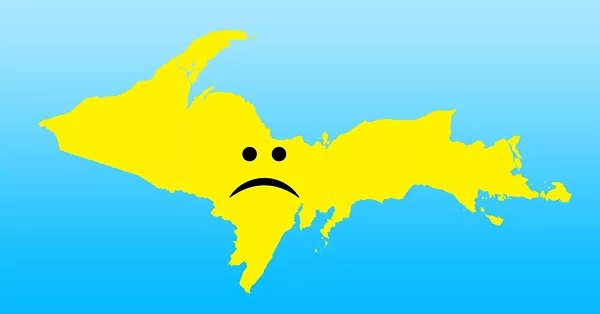 Illustration by Lee DeVito
Ope! Someone fudged a map of the Upper Peninsula.
Whoever runs the parody Twitter account @NFL_Memes forgot their thinking cap (or chook, if you'se guys are Yoopers) when they made a map highlighting who each state is rooting for in the upcoming AFC Championship game between the Kansas City Chiefs and New England Patriots.


Screenshot | Twitter
The map shows that every state outside of the New England area is rooting for the Chiefs. That includes, despite Patriots quarterback Tom Brady's U of M roots, all of Michigan. Well, all of the Lower Peninsula… and Lake Superior?


The confused map maker highlighted Lake Superior with Kansas City's red, and left the Upper Peninsula blank. So, either the Yoopers have decided to remain neutral on the topic, or the person who made the map clearly isn't from the U.P. and mistook it for just another lake. There are lots of those around here, so it must get confusing to non-Midwesterners.

That's when Twitter users took to humorously lambasting the map, and defending the honor of the often-overlooked Upper Peninsula.


In fact, Yoopers are so
yoosta
being left out that they've created a
Facebook group
where they compile maps in which they don't exist.
Our state might not get to enjoy playoff football. But at least we have two whole peninsulas and a sense of humor, eh?
Mike Dionne is an editorial intern for Metro Times.
Stay on top of Detroit news and views. Sign up for our weekly issue newsletter delivered each Wednesday.